Asian footy future - South China Australian Football League continues to grow
Thursday, March 07 2013 @ 07:19 am ACDT
Contributed by: Shane Hendrickson
Views: 2,900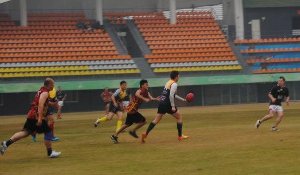 In our continuing series on the future of footy in Asia we look at what is probably the second biggest league in the Asian region, behind only Japan's TLeague (and perhaps the in-development East Asian AFL).
The Lantau Lizards have become the sixth team to enter the South China Australian Football League (SCAFL), joining already established teams in Hong Kong, Macau and Guangzhou. Lantau is an island in Hong Kong, bringing the number of Hong Kong based teams in the league to four.

The Lantau Lizards, along with the Hong Kong Reds and Hong Kong Blues, play under the flag of the Hong Kong Dragons, which are the reigning Asian Champs, while the fourth team from Hong Kong, Hong Kong Gaelic, plays in the SCAFL independently. The Guangzhou Scorpions and Macau Lightning make up the remainder of the league.

The league is currently played weekly with Guangzhou, Macau and Hong Kong alternating between hosting entire rounds to make it easier to afford ground costs and umpires. The matches are played similar to the first round of the NAB Cup, with games having two 20-minute halves and each team playing two matches, totaling six matches for the day.
The league has shown steady growth, especially amongst locals, with further potential to grow. The city of Dongguan, between Guangzhou and Hong Kong, has a group of young players, made entirely of local Chinese. The team is young, and cannot travel much or host games yet, but is a promising sign of how well locals can take to the game. Unfortunately after some great ambitions a key driver of that program, Darrell Egan, has suddenly and unexpectedly stepped away from the sport, so there will be a real challenge for the Dongguan Blues to continue.

The games are played with between 12 and 18 players per side, depending on ground size, player availability and how many beers were consumed the night before. There is also a quota on locals, ensuring all teams try to field a team of at least 25 per cent non-Australians, although Macau and Guangzhou often reach close to 50 per cent.

There is great potential for growth of the game amongst locals. Guangdong, the province in which these cities are located and Hong Kong and Macau border, has more than 100 million people in an area smaller than Victoria, with an expanding middle class. This includes 15 million people in Guangzhou and seven million people in Dongguan. If the SCAFL manages to recruit beyond a mainly expatriate community, the limits are seemingly endless.