Untouchables versus 9s : Lions win at Castlemaine

While 9 aside footy has been a crucial vehicle for Australian Football on the international front (where availability of grounds are limited and regular local comps use a more achievable team size), in Australia it's been far less well recognised. For a time the AFL has dabbled with 'Rec Footy'; and last year re-launched it as 'Cadbury 9s' (or AFL 9s). For regular followers of the game the notion of the game's 'untouchables' were put forward a couple of years back and people were challenged to consider what was 'untouchable' about the game.
An oval field?
18 aside? Or the 16 of the old VFA for a period? This discussion has been had again in recent days on Melbourne radio (SEN in particular) due in no small part to the role of the rules committee and Kevin Bartlett. What are the non-negotiable's? There's now talk of a 'charter' as reported last Friday (by Patrick Smith - a regular guest of Bartlett on SEN) - see Visionary charter to manage evolving changes to AFL rules.
Kevin Sheedy in 2011 spruiked AFL 11 aside .
For now, variations on Australian Football are largely a side show. There are certainly some local leagues even in Victoria that have less than 18 aside on the field. The Omeo Football League as an example runs 16 aside with no reserves sections. In this case, declining rural populations in a very remote part of the state is a key factor.
However, 9 aside is a perfect format for pre-season or one off lightning premiership style tournaments. And having returned from the Castlemaine Masters 9s tournament held recently at Chewton, I can vouch for the fun as well as the fitness challenge of the format – and aside from kicking a little too wide on occasion and falling foul of the straight sided boundaries; the game play is footy as you know it.
And why not have a 'footy light' format? If we look at Rugby Union that has the Rugby 7s variant that far from being a bit of a laugh; has being elevated to the Olympics. Rugby League is perhaps less removed from its original parent of Rugby Union than for example T20 cricket is from its original parent of long form cricket.
And so back to the notion of Australian footy 9s. Does it break any of the 'untouchables'? If an oval with 18 aside is deemed untouchable – then perhaps.
But - where do the untouchables start from? Taking an extreme view - a perusal of the original 10 rules of the Melbourne Football Club (May 1859) show that while the captains no longer decide upon the distance between goals – we do at least still toss a coin for choice of end (although there is no 'kick off'); and that a goal MUST be kicked fairly between the posts without touching either of them or any person. This is to me an untouchable - never allow a goal to be deflected in like in soccer, or permitted off the inside of the woodwork as in rugby.
The notion of a kick in after the ball goes 'behind' goal is retained – however, a point has been awarded now for well over 100 years for instance of the ball passing between what was originally a 'kick off' post and the goal post. Those 4 posts though are still in place - be it a 'kick off' post or a 'point post'. Perhaps that needs to be untouchable.
We still have a 'mark' for a fair catch, and while there was the 'little mark' in fashion for some time, the extension of the distance travelled requirement by the ball is perhaps a fair tweak given the improved quality of ball manufacture as well as improved ground conditions.
While hacking was illegal from the outset; it didn't take long to outlaw tripping and limit pushing. The ball though CAN be lifted from the ground, but, certainly should still not under any circumstance (in play) be thrown.
The rule that I was reminded of watching the NAB cup is rule 9. That when the ball goes out of bounds (and importantly the phrasing was NOT goes 'into touch' as was the norm in the English schoolboy games of the day); that it be thrown in at right angles to the line from where it crossed.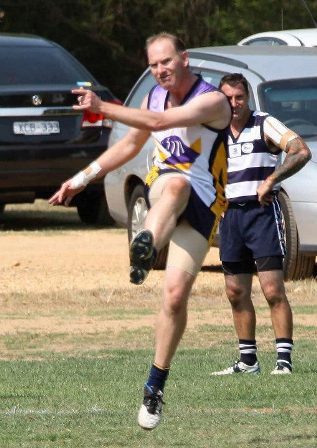 To me – this should be an untouchable. Granted – we accept 'out on the full' as a variation to the original rule. However, the spirit of the game seems to be defeated when 'last team touching' is applied to direct a free kick rather than a boundary throw in. Such a rule would make our game more like others rather than more like itself. To me – this is a greater attack on the essence of the game than is a limit on the number of interchanges in a quarter or a strict or otherwise interpretation of 'hands in the back'.
My impression then is that the 9s format for footy is fair dinkum footy. And for the record, Melbourne Masters (the Lions) won the day going undefeated into the finals after also winning the event in its inaugural year in 2012. The challenge then is for more 9s tournaments to take place in Australia. Or 11's or 12's or whatever. What I'd love to see would be for some country pre –season tournaments that might allow previously merged clubs to once again 'fly the flag' in this footy light format.