AFLNT Board to evaluate community support for Central Australian Redtails
Tuesday, March 05 2013 @ 09:47 pm ACDT
Contributed by: Wesley Hull
Views: 4,338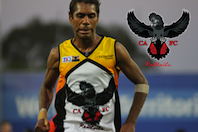 During the 2012/13 season the AFLNT added the Alice Springs-based Central Australian Redtails to the Northern Territory Premier League, along with a further Darwin club in the Banks Bulldogs.
Each played four games as an experiment to assess whether or not the club would ultimately survive in the highest level of the NTFL competition.
The Central Australian team performed above expectations on the field, winning three of its four games, including a win against current flag favourites, St Mary's.
The following press release from the AFLNT discusses the direction both the league and the club will now take to determine whether or not the Central Australian Redtails can be admitted to the NTFL Premier League.
"The board of AFL Northern Territory last night recommended that a specialist survey be sent to all key stakeholders and members of the Alice Springs football community to evaluate the support at 'ground level' for the Central Australian Redtails.
AFLNT CEO Tony Frawley is pleased with the boards recommendation and expects the electronic survey to be made available to the relevant stakeholders next week.
"The board and AFLNT executive believe that whilst the Redtails concept has merit, we have not yet seen evidence that the required level of community support for the concept exists.
Most of the evidence presented to us by the Redtails administration has been anecdotal, so we are now asking the football community in Alice to respond to a survey which will be designed to gauge the level of support for the concept locally. The survey will also allow respondents to provide feedback on where the Redtails fit into the overall structure of football in Central Australia.
Whilst the survey is just one small element of AFLNT's viability assessment for the Redtails we believe it is an excellent way to gauge the level of support for the concept," advised Frawley.
Paul Fitzsimons, Chair of the Central Australian Football Advisory Board indicated his support for the survey.
"I am pleased that this survey will gather feedback from the Central Australian football community as it is critical that the level of support for the Redtails concept is carefully evaluated prior to any further progression of the concept taking place."
AFLNT will collate the results of the survey and will discuss the findings in detail with the Redtails administration with a view to mapping out the next steps for the fledgling club."