Mount Isa Footy – Mining For Aussie Rules Talent
Thursday, February 21 2013 @ 09:32 pm ACDT
Contributed by: Wesley Hull
Views: 4,785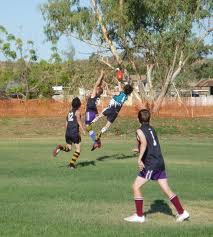 It is quite likely that the last thing on the mind of John Campbell Miles, as he hopefully kicked rocks along the bed of the Leichhardt River back in 1923 looking for gold or other treasures, was that 90 years later Australian Rules footballers would be kicking goals of their own near that same location. But that is exactly what is now happening, and with some real heavyweight support behind it, Australian Rules football in Mount Isa may be about to unearth its own mother lode of talent.
Such is the eclectic nature of mining towns that men and women bring more to a location than just skills and an ethic of hard work. They bring themselves and their assortment of interests and hobbies.
So it was that three men, notably Alan Metcalfe, John Edwards and John Cargill among others, arrived in Mount Isa and worked hard to establish the Mount Isa Australian Football League. Alan Metcalfe went on to be a key instigator in the further development of the North Australian Football Championships which featured teams from Mt Isa, Darwin, Alice Springs, Townsville, Cairns and Port Moresby.
By 1957 the town boasted three teams (Tigers, Rovers & Healy) which was enough to start competition. Due to mining downturns and the transient nature of the populations of mining towns, footy in Mount Isa has often been a stop/start proposition.
The development of the code has also suffered from a lack of a permanent base, having gained and subsequently lost homes at Alexandra Park, Sunset Park and shared arrangements with local soccer and rugby union. Combined with the universal problems of financial stability, which afflicts all teams in all codes in some way, Mount Isa footy was probably unconsciously waiting for a knight in shining armour.
And he arrived in the form of "Diamond" Joe Gutnick, the former president of the Melbourne Demons AFL club and mining entrepreneur whose Queensland phosphate mining company Legend International Holdings sits on deposits in Mount Isa worth hundreds of millions of dollars.
Gutnick has always been a staunch supporter of the game and his decision to offer a $100,000 sponsorship deal was his way of giving back to the community that has given him so much.
The deal which went ahead throughout the 2009/10 period saw $50,000 given to AFL Mt Isa to develop their made to order ground, Legend Oval.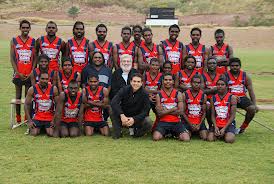 The other $50,000 was used to provide a 30 seat bus to assist the development of a Young Guns team (pictured at left) from the indigenous community of Lake Nash (Alpurrurulam) which sits just across the border in the Northern Territory. Gutnick's sponsorship of the bus means the team can make the 600 kilometre round trip each match day.
More recently it was AFL Queensland CEO and former Fitzroy player Michael Conlan who threw his weight behind the achievements in Mount Isa. In an interview for the North West Star newspaper in Mount Isa, Conlan stated that "my first impression of AFL in Mount Isa, particularly the playing surface at Legend Oval, is great. This is as good an oval as you will get anywhere around the Queensland region."
AFL Mount Isa President, Maddo Fidler, has already identified that whilst the generosity of Joe Gutnick and other local companies such as Xstrata Mount Isa Mine Zinc have seen the league gain a stability and have a home, it has been achieved without any grants or financial support from government or AFLQ. As Maddo points out, "AFL Mount Isa has built an oval to play on but we have no electricity, sewage, club rooms or shade for supporters."
The response from Conlan must be heartening as he says "we will look at it [Legend Oval] in terms of building new amenities and change rooms…the aim is to give it more of a first-class stadium appeal." As Fidler points out, "It was good to hear Michael's plans for AFL in Queensland and we are a part of that. His visit makes us feel even more a part of it."
As with all sport, the truest measure of future potential is the junior nursery. It is this conduit of youth and generational change which will supply the senior clubs into the future.
Andrew Hurst is the Junior AFL Administrator for Mount Isa Juniors. He raises some interesting points about the junior game. Andrew cites a lack of infrastructure and advertising as two stumbling blocks to junior development, but happily concedes that things are changing. "We are still the minority code in town behind Rugby League but I believe with good marketing and promotion, AFL will dominate within 5 years. Rugby League think they have a good product, AFL knows we have a good product."
"2013 may be the first year the Junior AFL can be played under lights [as we are] in talks with businesses to install temporary lighting until other funding is sought for permanent lighting. Mount Isa AFL has recently built an oval exclusively for AFL and the clubhouse [and other faclities] is to follow."
"Junior AFL has huge potential in Mount Isa. The town has a reasonable turn over with many families coming from Victoria, SA and WA. I believe that if we build something that families enjoy, it [Australian Rules football] will self-generate into a great community event."
Already there are signs of this with last week's visit by Brisbane Lions and AFL legend Simon Black (Brownlow Medallist, Norm Smith Medallist, 3 time premiership player and member of the 300 games club) returning to the town of his birth to highlight the recent AFL Juniors Open day and further stimulating interest in the game.
It was the spirit of John Campbell Miles and subsequent miners, pioneers, adventurers and visionaries who have made Mount Isa the unique place that it is today. Some of that spirit has worn off on the likes of people like Metcalfe, Edwards and Cargill, and more recently the likes of Joe Gutnick, Maddo Fidler, Andrew Hurst and many more, as they continue to grow a game against the odds and mine for the Aussie Rules talent of the future.