Cairns v Townsville – Which will be the home of an AFL team by 2030?
Monday, February 18 2013 @ 05:07 pm ACDT
Contributed by: Wesley Hull
Views: 4,194

I am very lucky that I can travel the stretch of road between Cairns and Townsville many times a year. The drive takes in some of the finest scenery in Australia. Along the way there are the imposing twin mountains, Bartle Frere and Bellenden Ker, with their luxuriant rainforest canopies.
There is the beach at Cardwell with its views across to majestic Hinchinbrook Island. Mile upon mile of sugar cane farms surrounding the towns of Gordonvale, Innisfail, Tully and Ingham in the valleys of the Mulgrave, Johnston, Tully and Herbert Rivers.
Then there are the detours to Mission Beach, Wallaman Falls, Paluma and more. It truly is an amazing part of the world.
At either and of the drive are two growing cities. They are rivals in many ways - complementary in others. Some believe that Cairns is the "tourist capital" of the north and others see Townsville as the "administrative capital". These descriptions are too simplistic, and are an argument for another day. What is becoming clear, however, is that these two northern cities in tropical Australia are about to become locked in a battle to see an AFL team franchise based there by 2030.
As reported in the Brisbane Courier mail, the wheels are turning, and it seems that the honour will go to the best prepared city. Former Fitzroy star of the 1980's Mick Conlan is now the CEO of AFL Queensland. He has stated that the regional cities of Cairns, Townsville, Mackay and Rockhampton are a "strategic focus" for the AFL.
Evidence of this is the two AFL matches coming this year. On March 2nd, the North Melbourne Kangaroos will play the Gold Coast Suns at Tony Ireland Stadium in Townsville as part of the pre-season NAB Cup. Later in the year the Gold Coast Suns again head north to play Richmond in a home and away match at Cazaly's Stadium in Cairns. This is the third match between the two sides at this venue with the Gold Coast undefeated so far. This will mark the first time that two cities in North Queensland will host AFL matches in the same season.
Cairns has already hosted a number of pre-season cup matches, featuring visits from the Brisbane Lions, Geelong, Port Adelaide, Western Bulldogs, Melbourne, North Melbourne and more. Cazaly's Stadium has also hosted test cricket. The venue is no stranger to elite sport. Some would argue it is a certainty to be the host of an AFL team at some point. Conlan admits he would like to see more home and away games played in Cairns, as well as pre-season games and the development of an NEAFL (North East Australia Football League) team to be based in Cairns.
With a population in North Queensland of 4.5 million now, and predicted to almost double by 2030, it is clear why the AFL wants to foot in the door now. AFL Cairns CEO, Gary Young, stated before the Gold Coast-Richmond game last year that "The establishment of an NEAFL team is another dimension of that [growth] and eventually our ultimate goal is to have a NQ-based AFL team."
But Townsville is still firmly on the radar for a number of good reasons. With the location of the military bases, the James Cook University, a variety of industry and being the centre of commerce for many companies, Townsville has a financial stability that Cairns is still working towards. Townsville has a population of around 178,000 compared to Cairns a little over 150,000.
Sheer figures might look impressive, but can often give a false story. One story, however, that is hard to argue is that Townsville has already been playing in the big league with the North Queensland Cowboys rugby league team. The Cowboys have been playing with varying levels of success in the NRL since 1995, reaching the Grand Final in 2005. Townsville has already proved it can play competitively on a national stage. With the Townsville Crocs and the Cairns Taipans, both cities are home to teams in the NBL (National Basketball League).
Tony Ireland Stadium is the showpiece of Australian Rules football in Townsville. Conlan admits that "Tony Ireland Stadium in Townsville is a very good facility but we would need to work closely with the Queensland Government to build on what is already there to bring it up to what is required for AFL games."
Nevertheless, it wasn't long ago that Cazaly's Stadium in Cairns had to undergo a massive facelift to reach AFL standard. The same is possible with Townsville's own Australian Rules football centrepiece.
Next month's "Festival of Football" in Townsville is the cities' big chance to shine on a national stage. The hosting of the Suns/Kangaroos match is at the centre of events, but they are also hosting junior international competitions featuring teams from New Zealand, Papua New Guinea and Oceania as well as local indigenous talent.
If Townsville can pull of a successful series of Australian Rules events they would certainly attract the attention of a wider population, sponsors, supporters and also the power brokers within the AFL.
For many, the next forays into new AFL territories have revolved around the development of teams, either through relocation or starting from scratch, in existing AFL venues such as Tasmania, Canberra or Darwin. By 2030, the AFL will look different to what it does now anyway. Just 27 years ago the VFL was a Victorian only competition (Sydney was still South Melbourne to many). Now it boasts multiple teams in Queensland, New South Wales, South Australia and Western Australia.
It is not a big leap in logic to foresee the "Darwin Bulldogs" or "Tassie Hawks" or "Canberra Kangaroos" in the not-too-distant future. But hard on their heels might be the "Cairns Crocodiles" or the "Townsville Taipans".
I would dearly love an AFL team in my home town of Cairns. But I would not be averse to a beautiful, scenic drive down to Townsville each fortnight to watch the best AFL clubs in the land.
May the best city win.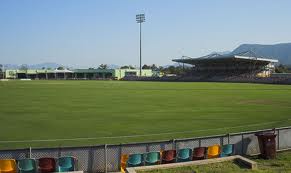 Cazaly's Stadium (Cairns) (courtesy of austadiums.com)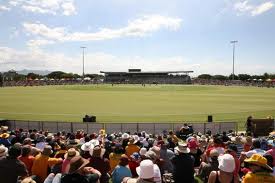 Tony Ireland Stadium (Townsville) (courtesy of sportingpulse.com)