Asian footy future
Sunday, January 27 2013 @ 01:27 pm ACDT
Contributed by: Brett Northey
Views: 2,887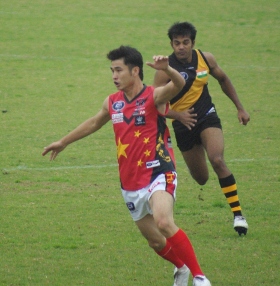 worldfootynews.com is commencing a series of articles about the future of Australian football in Asia.

In the South Pacific footy is booming with growing numbers of countries involved, tens of thousands of kids getting exposed through AFL and AusAID supported mass participation programs, talent pathways giving youngsters a clear route to the AFL, and players beginning to appear on AFL scholarship and international rookie lists. In Europe there are many countries involved in Australian football and with AFL Europe formed to help them coordinate there are numerous tournaments and solid (although not spectacular) growth. Africa is somewhat untapped but has 20,000 players in South Africa. North America is steady although in South America the surface has barely been scratched. But what of Asia?
"Traditionally" this region has been slow to get locals involved in the game. Most clubs are heavily based on expat-Australians and with a few other Western nationals involved. Japan has been the most obvious exception, with their Top League slowly growing and mostly featuring Japanese players. Sporadic efforts have been made to get locals involved in other countries, such as a junior league in Indonesia. China showed great promise with reportedly thousands of school children playing the game in Suzhou (near Shanghai) around 2009. However these programs appear to be exceptions rather than commonplace, and it's not clear if they've continued.
Of course none of this is to disrespect the expat sides. They have every right to exist to give Australians abroad a chance to play their homeland's sport. Most have also made some attempt to involve locals, and many have contributed significantly to local charities. But for those that are looking to spread the game around the world, the desire is to find something more that will help Aussie Rules put down permanent roots in Asian countries.
Over the next few weeks WFN will present a series of articles about the game in Asia and discuss proposals to try to speed the uptake of the sport amongst locals. What junior programs are in place in large numbers? What will it take to get more locals involved? Are local competitions accessible? Do locals need better access to international competition? What plans are there from existing people working in footy in Asia to take the game forward? And how do the AFL see their involvement over the next few years?
Pictured above is action from China versus India at the 2011 International Cup.