Boomerangs true to name
Thursday, January 17 2013 @ 10:34 pm ACDT
Contributed by: Brett Northey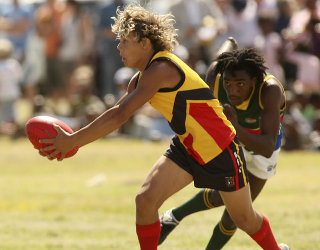 The Flying Boomerangs are holding true to their name and returning to South Africa for the fourth time later this month.
Some of the most promising young Indigenous talent from Australia will be arriving for a two-week tour, coached by former AFL stars Chris Johnson, Andrew McLeod and Xavier Clarke.
The Flying Boomerangs will play two matches against South African teams and will conduct footyWILD (Australian Football) clinics in Durban and Cape Town townships.
"This is an outstanding opportunity for these young men to develop on and off the field. The tour will also share with South Africa the AFL's experience of utilising sport as a vehicle to generate lifestyle outcomes for Indigenous people and communities," said Xavier Clarke - former St Kilda and Brisbane Lions football clubs player.
"It's always a great opportunity for our town, Potchefstroom to host overseas visitors and most important for kids who are involved in our program throughout the year to come and witness the exciting game playing live. Our South Africa Lions players to get more experience and help prepare for the International Cup in 2014, which I hope to be part of once more," said Sipho Magongo, footyWILD Development Coordinator.