Fifty Bucks Will Get You Started – AFL Mackay
Sunday, December 30 2012 @ 10:11 am ACDT
Contributed by: Wesley Hull
Views: 2,241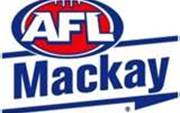 There is a fairly widely held knowledge that Australian Rules football can be traced back to as early as the 1860's in the south east corner of Queensland, most particularly Brisbane. It has taken far longer, however, for the game to break into many northern markets.
Even though there were sporadic outbreaks in places like the Atherton Tablelands and Thursday Island, they were generally linked to the stationing of servicemen in those areas and rarely survived beyond the war years, unless absorbed into other competitions. It was not until the 1950's that competitions began in Townsville (1955), Cairns (1956) and Mount Isa (1957).
But in 1969 there was much correspondence sent between Mackay and Victoria. In a situation which must almost echo the storyline of the movie, The Shawshank Redemption, where Tim Robbins's character writes to the authorities so often that they give in and send him money for library books, the Australian National Football Council (precursor to the AFL Commission) gave in and sent fifty dollars to Mackay to help pay for stationary to allow the paperwork to go ahead for the creation of another centre of Australian Rules football in North Queensland. Fifty bucks to get started!
By March 1970 three local teams had been formed and the competition could begin. East, North and West Mackay were the inaugural teams in the Mackay Australian Football League.
As with most Australian Rules competitions, teams come and teams go. Bakers Creek joined in 1971 to become a successful club with 9 premierships along with North Mackay (9), Whitsunday (8), Mackay City (7) and Eastern Swans (6). Many others have come and gone, or amalgamated. Some of those also managed premierships during their time. Teams from the coal mining towns inland along the Peak Downs Highway included, at various times, Dysart, Middlemount and Moranbah. Today only Moranbah survives and has two premierships. It has proved very hard to combine mining, distance and football, but the Bulldogs defy the odds.
So what has that fifty bucks bought now, when viewed over time? AFL Mackay now boasts seven senior clubs and eight junior clubs. These are scattered throughout the region with Moranbah 190 kilometres to the south west, Whitsunday (based in Airlie Beach) roughly 150 kilometres to the north, as well as Sarina and Alligator Creek to the south and the Pioneer Valley to the west. They also boast their own Queensland representative team, the Mackay Crows.
It is a great credit to the passionate and hard working Mackay community, especially those who strive day in and day out, to develop another Australian Rules foothold in a part of Australia that is still heavily devoted to Rugby League. They have certainly come a long way in a little over 40 years, and no doubt there is more to come.
Not bad value for fifty bucks, is it?