Junior Aussie Rules Grows In North Queensland
Saturday, December 08 2012 @ 06:43 pm ACDT
Contributed by: Wesley Hull
Views: 2,749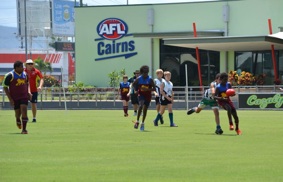 Australian Rugby League fans already know Innisfail, in North Queensland, as the home of two test match internationals. Ask anyone remotely connected to Australia's "other" football code and they will tell you that Innisfail is where North Queensland Cowboy's star Ty Williams was born, along with Melbourne Storm's Billy Slater, argued by many to be one of the game's greatest full backs.
Innisfail has not been seen as a hotbed of talent for Australian Rules footballers.
Until now.
AFL Cairns Juniors have invested a great deal of time in recent months developing a junior Australian Rules football team in this beautiful town, located in the picturesque Johnston River Valley, 90 kilometres south of Cairns. Eddie, Tim, Baden and the crew from this organisation have been training Innisfail kids, as well as others in nearby Tully and Mission Beach, to produce the next wave of Aussie Rules stars.
The work they have done with local primary schools to get kids involved in our great game may see the next Billy Slater wearing a Gold Coast Suns or Brisbane Lions jumper rather than that of a Rugby League team.
Their work has culminated with two terrific football matches over the past two weekends.
On Saturday 1st December the first ever Innisfail Australian Rules team ran onto the field at Innisfail State College (the town does not have an Aussie Rules ground) to play an historic match against the visiting Pyramid Power U13's team from Gordonvale.
The match went to the wire, with a 9 point final margin in favour of the visiting team, but a crowd full of converts as the largely local crowd realised that their town had just embraced Australian Rules football and loved it, if the noise from that crowd was anything to go by.
The re-match was held yesterday, 8th December, at Cazaly's Stadium in Cairns, as the Innisfail players, parents and supporters travelled to the epicentre of Australian Rules football in the north (also a first). The scoreboard said that the margin was greater this time, but in the space of one week these Innisfail kids had seemingly grown an extra limb or two. They were harder, faster, more organised, more confident and displayed a greater awareness of how the game is played. For this, credit is due to the perseverance of the AFL Cairns Juniors crew and the kids themselves for committing even further to this game.
AFL Cairns Juniors see these games as the first in a series of matches over coming months or years that will see kids from as far south as Tully, and even possibly Cardwell, having the opportunity to find a pathway to the big time. Transport, funding and numbers preclude these towns being a part of the local junior competition at the moment, but over time this may change. For now, kids who show the talent or desire to play on a more permanent basis can link up with their nearest club, Pyramid Power, in the existing Cairns junior competitions.
Pyramid Power president, Brett Kennerley, sees only good coming from the recent games. Through a gradual process of education and opportunity, provided both by local clubs and the local leagues, Brett can envisage a southern Australian Rules network encompassing Yarrabah to the east of Cairns, the southern Atherton Tablelands to the west and Innisfail as the centrepiece in the south. How they get to play each other is problematic, but the framework is being steadily put in place.
At the risk of fanning the flames of a code war in North Queensland, Billy "The Kid" Slater might soon be joined by plenty of other kids vying to be the next great sporting product from this town.
Look out, Billy! The Aussie Rules kids from Innisfail are coming to get you.
Bring it on!