Friday, October 19 2012 @ 06:14 am ACDT
Contributed by: Troy Thompson
Views: 2,641

The following article was submitted to us by the Columbus

Jackaroos

Australian Rules Football Club.

The
Jackaroos
competed in Division 3 of the 15th United States Australian Rules Football (USAFL) National Championship Tournament this past weekend, Oct. 12-14th in Mason, Ohio.
The 'Jacks' completed an impressive clean sweep of their round-robin pool play soundly defeating Kansas City, North Carolina and perennial powerhouse Atlanta in the Semi-Final to advance against their long-time Midwestern rivals, the Chicago Swans. Columbus had trumped the Windy City in three previous matches this season.
With wet weather threatening to unleash on the pitch, the final was pushed up 45 minutes ahead of schedule, minimizing the
Jackaroos
' recover time after their semi-final battle.
Chicago would win the toss and attack with a considerable wind at their back for the first half. They used the air to their advantage and gained the early lead and momentum, up by 3 goals at halftime.
In the second half, Columbus roared back, pounding the pill into their forward lines with tough-nosed, head-to-head play through the midfield. Both teams matched up very evenly, as the Swans made the most of some questioned calls that went in their favor, knocking home two gimme goals. Those points would end up proving the difference at the final whistle as the Jacks fell by 9 points (less than 2 goals).
Returning Coach John "Patches" Fisher shared his thoughts with the team this week, "I am supremely proud of what you guys accomplished at Nationals. We didn't walk away with the cup, but we really sent a message to the USAFL that we are a club to be reckoned with."
Those sentiments were echoed by original club founder Chet Ridenour. "I've never been so proud to be a Jackaroo and represent Columbus this past weekend. We fought hard with the best team and mates we've ever assembled, and was honored to have battled to the very end. We quadrupled our previous tournament win total, and have made a name for ourselves as one of the most prominent American led clubs in the country."
After their final match, they paid homage to the scores of friends and family that supported them all season and tournament by singing their fight song, "... whose the greatest by far at the pitch and the bar, the Jack-a-roos, GO JACKS!"
And just as it eludes, these footballers realize they don't need a gold medal hanging around their necks to know they are winners.
Good onya, and cheers mates!"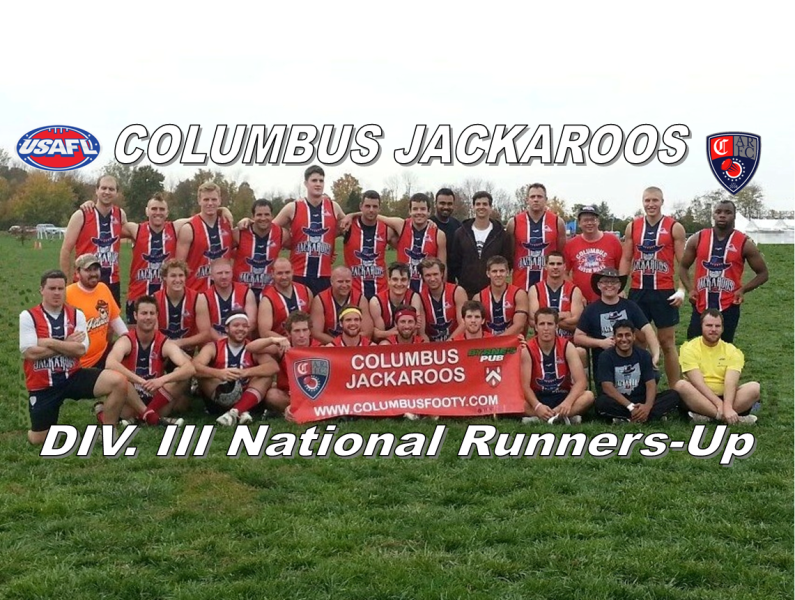 Ed. The

Jackaroos

competed in Division 3 in this year's titles, it was their best tournament result in the club's short 5 year history to end their most successful season yet, we won't be suprised to see them in Division 1 in the coming years.