MultiCultural Tales - Season 2012 – Khan Haretuku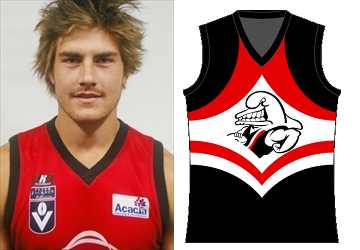 A couple of days back the story of Patty Ndongo from Cameroon via Frankston in the VFL was told. One of his team mates is Khan Haretuku, who, whilst Australian born (to New Zealand parents), was raised in Sydney (in Mascot) and as Eddie McGuire has attested in the past – Sydney to Melbourne is not just another city, it's another country.
Today (Saturday) sees Khan make the trek to Etihad stadium for the AFL State Combine testing. Khan is one of 7 VFL players amongst the 74 invited to attend. Haretuku is the only key forward amongst the 7 VFL players and is hopeful of re-igniting his AFL journey.
Khan was already on the footy scrap heap at age 19 when delisted by St Kilda. His journey had begun when mates had urged him to switch from Rugby to footy at age 14. He made a big enough impact to by 2006 be placed on the NSW-ACT scholarship program by St Kilda. In 2007 he represented the NSW-ACT Under 18 side, playing alongside teammates such as Taylor Walker, Craig Bird and Luke Bruest.
The next year, 2008, saw Haretuku make the move to Melbourne as a rookie (pick 51 in the 2007 rookie draft) with St Kilda, but, after two seasons and only 2 senior VFL games at Casey and Sandringham that part of the journey was over. As reported recently in Leader local papers. "Player with a Khan-do attitude" – Haretuku was told at the time that he was very raw – but, so new to the game he didn't fully understand it at the time. "..looking back on it I wasn't ready" he said, "It was quite a shock when I got there, just how professional everything was." The opportunity of proving then St Kilda coach Ross Lyon wrong would be a great motivation - after having been told at the time that Lyon didn't believe Haretuku had AFL talent.
Rather than returning home to Sydney, Khan remained in Melbourne and found himself at Frankston. Season 2010 was injury interrupted with 12 senior games. Season 2011 saw 4 VFL reserves matches (3 goals), being dropped twice in accumulating 14 senior games for 15 goals which placed Haretuku second in the club goal kicking behind Luke Clark (24). Frankston, as a stand-alone club, has struggled the last couple of seasons, and in 2011 finished 13th with just 2 wins, and season 2012 barely better, again defeating Coburg twice along with a gallant draw against Williamstown and a narrow 1 point loss to Casey in Round 3 – alas though, againt last place. Playing as a tall forward isn't easy in a bottom team – but 18 senior games this year produced 30 goals with two 'bags' of 4 (v Geelong and Sandringham). Whilst the goals started drying up a little in the 2nd half of the year, Khan was spending more match time rucking and less time forward. Perhaps a key performance happened in Hobart in late May when Haretuku bagged 4 against the hapless Tassie team that, perhaps undermanned on the day, went down by 108 points at Bellerive Oval.
Earlier this year, Khan had the opportunity to represent New Zealand against an AFL-AIS side at Westpac Stadium in Wellington. A 91 point thrashing saw Haretuku amongst the Kiwi's best along with Kurt Heatherley (Haw International Scholarship) and Adam Campbell (former Freo player).
For Haretuku, the chance to first represent New Zealand and then the VFL had been as he suggested that before this year (2012) that he had never represented anything before. After the patchy 2011 that at least saw the hard work translate into real improvement with four 'brilliant displays' that along with the start to season 2012 was enough to confirm that dropping of the penny. Much of the improvement credited to confidence, preparation and 'picking the coache's brains".
The chances of Khan finding his way back into the AFL seem to be reasonable. Frankston coach Simon Goosey has suggested that Khan is ready to go, and, with the success of other mature age recruits in recent years the chances that at 23 (as he will be in a couple of days) that Khan is just maturing after a latish start. Reported in the Age in July, Goosey was said to believe that Haretuku was a near certainty to be redrafted at seasons end. Goosey was reported on SportingPulse as indicating that he was contacted by AFL clubs wanting information on players probably every second week from about June onwards. Haretuku being one of them and Goosey (in Leader papers) felt the 4.2 he contributed in the state game showed that he had provided a really good target and had done himself no harm for the future, and stated that "He's come a long way in three years.". Along with playing for the VFL in the state game, Haretuku was named CHF in the VFL Team of the Year along with Frankston Dolphins teammates Lachlan Delahunty, Kyle Martin and Leigh Osborne who have registered on the radar of several AFL clubs.
Earlier this week appeared a story in the local FrankstonWeekly suggesting that the Dolphins have moved swiftly to cover the potential loss of Haretuku via its recruiting. Should he make the grade then, he'll join an elite few in AFL circles to kick a real footy wearing a national jumper.
For the record :
| | |
| --- | --- |
| Name | Khan Haretuku |
| DOB (age) | Oct 19, 1989 (22) |
| Height | 199 cm |
| Weight | 101 kg |
| Born / Raised | Australia - Mascot (Sydney/NSW) |
| Heritage | New Zealand (parents) |
| Club | Frankston Dolphins |
| Competition | VFL |
| | |
| --- | --- |
| Season 2012 | |
| Grade | VFL Seniors |
| Matches | 18 |
| Goals | 30 |
| Most goals | 4 (twice) |
| Times in best | 7 |
2012 Highlights -
-Represented NZ v AFL-AIS (Wellington NZ)
-Represented VFL v TSL (Hobart, Tas)
-VFL Team of the Year
-Invited to AFL State Combine