MultiCultural Tales - Season 2012 - Patrick Ndongo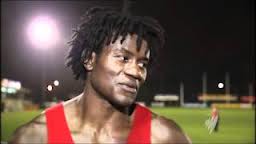 For most followers of footballers with an international pedigree the thoughts through most of 2012 in association with Frankston, a stand-alone club in the modern 'VFL' battling it out against both stand-alone AFL reserves sides (Geelong and Collingwood) and a host of AFL aligned VFL feeder clubs, the thoughts were mainly around Khan Haretuku. Out of nowhere came Chamberlin "Patrick" Ndongo with a mighty story that will lead who knows where.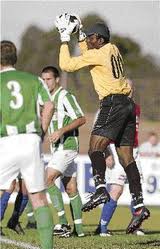 For the 2006 No.1 goalkeeper for the Cameroon National Junior Team the path to playing VFL for Frankston would not seem a logical progression. Ndongo has an Association Football resume that includes Division 1 and 2 in Cameroon, Div 1 in Vietnam (FC Canto of Ho Chi Minh City), Div 2 in Switzerland (FC Bulle of Fribourg) and then to Australia with first Richmond and then Green Gully in the VPL before finishing up with FC Bulleen Lions in the State League 1 after seasons 2009 to 2011 (see youtube of Ndongo vs Preston last season here ). Ndongo's move to Australia was interesting enough – while in Switzerland he met a girl and fell in love with Rebecca, an Australian girl. Ndongo followed her halfway around the world to find himself in Melbourne, Australia.
The Frankston Standard Leader ran an article in March this year titled "Out of Africa, into VFL" with Ndongo preparing for his first VFL senior game against Port Melbourne. Getting to training has been enough of a task, living in Rosanna in Melbourne's North-East, he drives 2 hours to Frankston 3 or 4 times a week. When he first arrived in Australia back in 2007 Patrick was watching TV and came across a Collingwood vs North Melbourne match. That did it – since then, he's never missed a game (of AFL). He asked his new wife Rebecca "what game is this?", thinking it must be rugby. He was told it was footy and he found himself wanting to try it – only for Rebecca to suggest he shouldn't because "soccer players are very soft".
Ndongo found himself playing soccer in suburban Melbourne but thinking during the game that he wanted to go home and watch the footy. So, he got himself a player manager, Hannah Simon from Global Athletic Success, and she contacted Frankston (coached by former gun Richmond Under 19 and star of the 2005 EJ Whitten match, Simon Goosey).
After an early exposure in practice matches – he was thrown to the wolves against Port Melbourne on March 25 this year for the Round 1 VFL game. It was tough, but, 2 contested marks, 4 tackles and 9 hit outs showed a physical presence.
Sporting pulse carried a story on the Frankston Dolphins page here. This story starts with Ndongo's recognition of his having bulked up having known little of weight training back in Cameroon to now being the strongest man at Frankston. "I look at myself now and I am so big," Ndongo laughed. "I think how did I get to be like this?". That round 1 game showed Patty that there was still much work ahead.
"It was so fast, everything was happening around me. And the skills, the skills had to be very fast and mine were not fast enough," he admitted.
This story was run in the lead up to Patty's return to the senior side to take on Williamstown at Frankston Park back in Round 12 – a match that was drawn (Frankston 14.8.92 v Williamstown 13.14.92). It was again a steep learning curve. Lining up on the bench – during the day he would come up against 201 cm Bulldog Tom Campbell who dominated with 33 hit outs and 19 disposals plus a goal in a best on performance for the 'Gulls. Ndongo shared the ruck with James Orr, with 12 and 16 hit outs respectively. Patty picked up 5 disposals in a tough day at the office.
SBS picked up on the story after this, however the video has expired on the SBS website but can be seen via youtube here. The SBS story talks of Cameroon as a nation of 30% unemployment with life expectancy of 55 years and a quarter of the population living on less than a dollar a day. This story from Glenn Osborne includes some soccer and VFL footage. Also reveals that Odongo put on about 10kgs over just 9 months to be ready to take on footy.
For the record :

| | |
| --- | --- |
| Name : | Chamberlin "Patrick" Ndongo |
| Born / Age : | March 22, 1987 (25) |
| Height : | 194 cm |
| Country of Origin : | Cameroon (born and raised) |
| Club : | Frankston Dolphins |
| Competition : | VFL |
| | |
| --- | --- |
| Season 2012 | |
| Grade : | VFL Development League |
| Matches : | 15 |
| Goals : | 5 |
| Most Goals : | 2 (vs Sandringham, Round 11) |
| Times in Best: | 6 |
| | |
| --- | --- |
| Season 2012 | |
| Grade : | VFL Seniors |
| Matches : | 2 |
| Goals : | 0 |
| Times in Best: | 0 |
| Debut: | Rnd 1 v Port Melb |