Pyke earns stripes while RUWC file photos replaced

When the final siren sounded yesterday afternoon, one of the more interesting efforts to circumvent the AFL draft and develop talent outside of the primary channels had a milestone moment of vindication. Mike Pyke's journey to the AFL is now pretty well known - in Australia. What has also happened over the last week has been a recognition of his efforts 'back home' in Canada. And with yesterdays win - we now see the file photos of Pyke from the Canadian national Rugby side during the 2007 RUWC replaced with Mike Pyke, Swans player, and a premiership cup.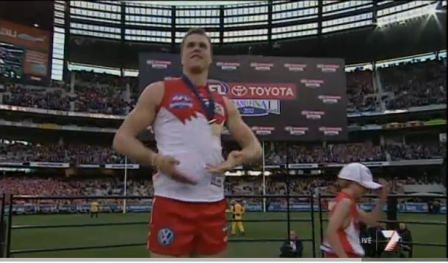 The first Associated Press story has over the last hour hit the 'presses' (well, websites) of Canadian newspapers. The first story appearing is "Canada's Mike Pyke and Sydney Swans win Australian Rules Grand Final".
The notion that Pyke is 6 foot 4 is interesting, given he stands 200cm converts to 6 foot 6.7 inches.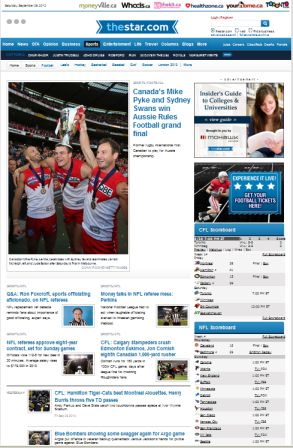 The Toronto Star has lead the way pictorially including a photo of Mike Pyke, Swans player, Premiership player.
For the record,
Mike Pyke was credited with a career high 16 disposals (previous best 15 during his famous Rnd 22 effort against Brisbane to ruck the Swans to a home final).
Kicks : 7
Handballs : 9
Marks : 6 (including 3 contested)
Hit outs : 29
Tackles : 3
for the record - DOB 24-Mar-1984, Hgt 200 cm, Wgt 103 kg, Number 38, Games 46 (18 in 2012) Goals 13 (8 in 2012)
Pyke started shakily almost spilling a two grabber mark near , the boundary on the half forward line in the first quarter - and following that with a grubber kick off the inside of the boot. No doubt a case of GF nerves - the benefit of rucking is that you get taken to contests that help disperse the nerves real quick.
AFL player ratings (click here) :
Mike Pyke - 7
For a man who was well into his 20s before trying his hand at Australian football, Pyke is far from a conventional footballer. But there is plenty to be said for effort and the Canadian has that in spades. Anyone still wanting to criticise the ruckman need only look at his performance on Saturday. No less than 29 hit-outs, one short of David Hale, to go with 16 touches and six important marks told the tale. He also held down the rucking duties for almost the entire fourth quarter after Mumford's substitution.

and AFL 'what the players said' (click here) :
Mike Pyke 

"This year I just missed out on selection in round one which I was really choked about. And then I did my PCL (posterior cruciate ligament) in the reserves and I had to battle with that for about six weeks. I got back in the team but I was under the pump a fair bit because 'Mummy' (Shane Mumford) was in the team. For John to be able to find a role for me was really great. I hope I vindicated his decision to keep me in."

Note this page currently includes a picture of Pyke shortly after the game holding aloft the Canadian flag.
There's also an interesting typo in this story ("Premiership Pays off for Pyke") of FoxSports that might imply the anti-aging benefits of an AFL premiership - refering to the 28 year old Pyke as being 26!!!
The Melbourne Age reported on Pyke :
The Age also has run a Pyke feature today ("A Canadian ruck-solid hero stars") :
Mumford admitting
and from the NewsLtd (Superfooty)
"Mike Pyke's amazing journey from Canadian Rugby star to Swans AFL premiership winner"
Yesterday, Pyke was immense against Hawthorn as he continued the foreign legion tradition established at Sydney with Irishman Tadhg Kennelly in 2005.
"Pykey's story is tremendous," Kennelly said.
"To play in the position he's playing is such a specialist role. His marking was outstanding, probably his best in the Swans jumper."
Pyke's ruck coach Steve Taubert couldn't be happier with the efforts his pupil produced at the MCG.
"It's an Australian sports story which will take some matching," Taubert said.
"He'd only seen Aussie rules on the internet four years ago - he'd never seen a live game. It gives me enormous pride to have been part of what Mike has achieved.
"He turned up at the club's door four years ago with no financial support. To learn all the intricacies of the game and ruckwork in such a short time, and to have such an influence like he did in this grand final, is unbelievable."