AFL Grand Final Day 2012

As the clock counted down to the first bounce and from the international angle - the plot was threatening to twist and turn. The late rumour doing the rounds (incl. AFL website here) was that Swans #1 ruckman Shane Mumford was very much doubtful with a hamstring injury from training during the week.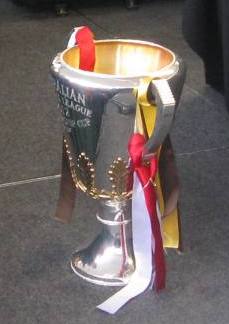 Canadian Mike Pyke has been built up in the media (somewhat overdue Melbourne based recognition - including on AFL.com.au today), and ironically former Hawthorn premiership player and now media commentator Dermott Brereton had suggested that with the weather forecast that the Swans might consider replacing a 'tall'. The obvious candidate would have been Pyke as suggested in the Age here. Yesterday Swans coach John Longmire denied that Pyke's place was in jeopardy (the Australian here). Whilst Mumford was in doubt, then Pyke would have been called on to take the number 1 ruck role with perhaps Irishman Tommy Walsh slipping into the 22 (Another of the Swans emergencies is Trent Dennis-Lane with Burmese background).
The game of ducks and drakes started to fade as the Swans took the field for a pre-game warm up with Pyke and Mumford both on display and earlier Ben McGlynn being interviewed suggesting that was the first he'd heard of anything (regarding Mumford). Nearing 2pm and the Swans were confirmed as heading in with an unchanged line up - so, the two pronged ruck line up of Mumford and Pyke will take the field together and the Canadian fairytale continues to role on. Meanwhile, New Zealand born Shane Savage will start with the green vest on for Hawthorn.
In Melbourne now, the sunny morning has given way as the cool south-westerly winds now push bands of showers across the Otways and Geelong (where the Bureau of Meteorology site has a current temperate of 8 listed) towards Melbourne.
Raining on the parade - Friday's AFL Grand Final parade was a wet affair, and, unlike at the MCG today - the humble umbrella was a common sight and indeed a vital piece of equipment.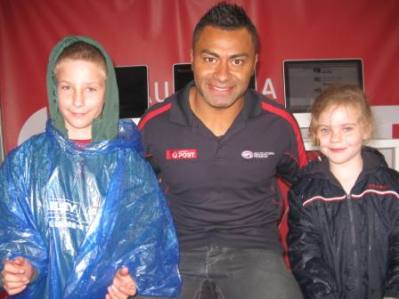 Worldfootynews favourite David Rodan (Port Adelaide and Fiji) at Federation Square on Friday with a couple of fans.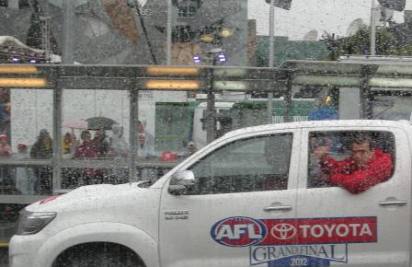 Mike Pyke (believe it or not) during the water soaked Grand Final parade.