Warriors ready for Euro Cup
Monday, September 17 2012 @ 06:55 pm ACST
Contributed by: Troy Thompson
Views: 1,544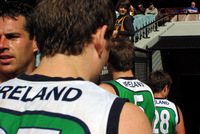 Original full article can be seen at http://irishwarriorsaussierules.wordpress.com/2012/09/16/warriors-ready-for-edinburgh/
This year's Irish Warriors team is a mixture of new players and experience with management trying to blood players for next year's European Championships being held in Dublin and retain a core of experienced players. From last year's winning team only six players return, they are captain Dave Lally, Kevin McSorley, Ryan McCloskey, Muiris Bartley, Bobby Byrne and John O'Regan.
Four players won medals at the International Cup in Australia last August, Ger Walls, Eoin O'Sulleabhain,
John Enright and team of the tournament player Kevin O'Brien who is now based in London having moved from Western Australia. There are five players making there debut in the Irish jumper this weekend, there are Redbacks pair, Sean McMahon and Sean Paul Henry, Swans duo Richie Duignam and Kevin Brennan and Demons dynamo Paul Redmond.
Full Team
Kevin McSorley (Belfast Redbacks)
Ryan McCloskey (Belfast Redbacks)
Gerard Walls (Belfast Redbacks)
Sean McMahon (Belfast Redbacks)
Sean Paul Henry (Belfast Redbacks)
Muiris Bartley (Leeside Lions)
Eoin O'Sullivan (Leeside Lions)
Peter Ross (South Dublin Swans)
Bobby Byrne (South Dublin Swans)
Kevin Brennan (South Dublin Swans)
Richie Dignam (South Dublin Swans)
John O'Regan (MidWest Magpies)
John Enright (Dublin Demons)
David Lally (Dublin Demons)
Paul Redmond (Dublin Demons)
Kevin O'Brien (London)
Team captain David Lally is a talented designer and this year's jersey designed by David will feature an imagine of the Melbourne Demons' jersey worn by Dublin born Aussie Rules great Jim Stynes. Jim was a pioneer for Irish people in Aussie Rules, inspiring others to follow in his footsteps in the professional game and most certainly inspiring the founders of the Irish league and its member clubs. Jim's ashes were scattered in the Wicklow Mountains last week by his wife Sam and it is only fitting he is remembered on the national team's jersey.
The Irish women's team, the Banshees will also travel to Edinburgh. This year will see them play a European Crusaders' team made up of players from Scotland, England, France and Italy. Follow Ireland's progress in the tournament on www.afleurope.org.