Australia Post Multicultural Team of Champions
Sunday, June 24 2012 @ 09:52 pm ACST
Contributed by: Troy Thompson
Views: 1,766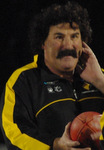 The AFL today announced the Australian multicultural Team of Champions initial squad list of 50 (see table below). To be eligible to be selected the players must either have been born overseas or had at least one parent born overseas.
Jock McHale has already been named coach and Alex Jesaulenko has been named as captain. AFL General Manager National and International Development Andrew Dillon stressed those selected were based on available information and will accept other nominations should other eligible players come to light. "The AFL will also ask the WAFL and SANFL to put forward its nominations for players who should be considered for selection. Many records pre-dating 1930 are incomplete and we will welcome any further nominations from the public who can confirm any player heritage from the early years of our game that we may not have been able to confirm."


The nominations will cover the length of the VFL/AFL history 1896-2012. The final team of 22 will be announced in late August.
| Name | Born | Father | Mother | Heritage |
| --- | --- | --- | --- | --- |
| Jason Akermanis | Australia | Canada | | Canada |
| Peter Bell | Korea | Korea | | Korean |
| Simon Black | Australia | New Zealand | Australia | New Zealand |
| Percy Bowyer | England | | | English |
| Barry Breen | Australia | Ireland | Ireland | Irish |
| Dermott Brereton | Australia | Ireland | | Irish |
| Roy Cazaly | Australia | England | Scotland | English |
| Trent Croad | New Zealand | | | New Zealand |
| Peter Daicos | Australia | Macedonia | | Macedonian |
| Alan Didak | Australia | Croatia | Croatia | Croatian |
| Robert DiPierdomenico | Australia | Italy | Italy | Italian |
| Andrew Embley | Australia | Anglo-Burmese/Spanish | | Spanish |
| George Heinz | Australia | Germany | | Germany |
| Glen Jakovich | Australia | Croatian | | Croatian |
| Alex Jesaulenko (Capt.) | Austria | Ukraine | Russian | Ukraine |
| Sam Kekovich | Australia | Serbia | Serbia | Serbian |
| Tadhg Kennelly | Ireland | Ireland | Ireland | Irish |
| Daniel Kerr | Australia | India | | Indian |
| Anthony Koutoufidies | Australia | Egypt | Italy | Greek |
| Allan La Fontaine | Australia | France | | French |
| Justin Leppitsch | Australia | Austria | | Austrian |
| Tony Liberatore | Australia | Italy | Italy | Italian |
| Stewart Loewe | Australia | Germany | | German |
| Gary Malarkey | Australia | | Italy | Italian |
| Alan Martello | Australia | Italy | | Italian |
| Peter Matera | Australia | Italy | Indigenous | Italian |
| Jarrad McVeigh | Australia | England | Australia | English |
| Mark Mercuri | Australia | Italy | Italy | Italian |
| Mal Michael | Papua New Guinea | | | Papua New Guinea |
| Joe Misiti | Australia | Italy | Italy | Italian |
| Sam Mitchell | Australia | | New Zealand | New Zealand |
| Nic Naitanui | Australia | Fiji | Fiji | Fiji |
| Harry O'Brien | Australia | | | Brazilian |
| Simon Prestigiacomo | Australia | Italy | | Italian |
| Peter Riccardi | Australia | Italy | | Italian |
| Nick Riewoldt | Australia | Germany | Australia | German |
| Anthony Rocca | Australia | Italy | | Italian |
| Saverio Rocca | Australia | Italy | | Italian |
| Ben Rutten | Australia | Holland | New Zealand | Holland |
| Matthew Scarlett | Australia | England | | English |
| Wayne Schwass | New Zealand | | | New Zealand |
| Michael Sexton | Papua New Guinea | | | Papua New Guinea |
| Sergio Silvagni | Australia | Italy | Italy | Italian |
| Stephen Silvagni | Australia | Australia | Italy | Italian |
| Ian Stewart | Australia | Italy | | Italian |
| Jim Stynes | Ireland | | | Irish |
| Andrew Swallow | Australia | England | | English |
| Nathan van Berlo | Australia | New Zealand | New Zealand | New Zealand |
| Paul Vander Haar | Australia | Dutch | Dutch | Dutch |
| John Worsfold | Australia | Australia | England | English |
| Jock McHale (Coach) | Australia | Ireland | | Irish |