Samoa sinks the Australian Navy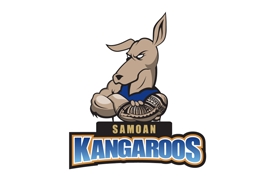 Last Saturday AFL Samoa celebrated Samoa's 50th Anniversary of Independence with a footy match between the Samoan Kangaroos and the Australian Navy crew of the HMAS Darwin. The social game was played in excellent spirits by both teams.
The following article was provided by AFL Samoa Development officer Gabel Stathis.
The Samoan Kangaroos squad was lead by Misi Moa from Sasitoo and consisted of some players who represented the country in the Oceania Cup in 2010 along with less experienced Samoan players, 3 Aussie expats and 3 HMAS Darwin players.
They were supported by player/coach Gabel Stathis (Australian Youth Ambassador for AFL Development) and the driving force behind AFL in Samoa and team manager Mitty Edwards.
AFL Samoa vice president and goal umpire on the day Bruce Peak said the team gained valuable match practice in the lead up to Oceania Cup to be played in Fiji later this year.
The HMAS Darwin team was captained by Jarred Boyd and despite lacking match practice the team played competitively and really took it up to the local boys.
The game was close with the lead changing several times throughout the game. The Samoan Kangaroos scored 66 points (10 goals and 6 behinds) defeating HMAS Darwin who scored 53 points (8 goals and 5 behinds).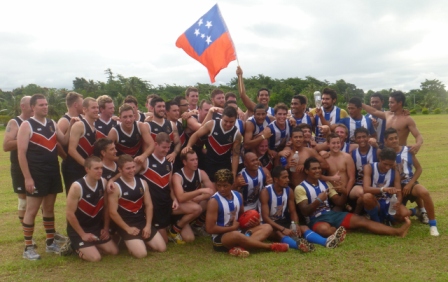 Best player for Samoa was the lightning fast midfielder Sinaki from Taususi who kicked four goals and fought hard for the ball all game.
Best player for HMAS Darwin was Captain Jarred Boyd who had smooth skills and a heap of accurate disposals that put his team in attacking positions.
After the game Mitty Edwards was presented a plaque by Commander Brian Schlegel on behalf of HMAS Darwin to hold till new club rooms and offices are established. Bruce Peak was presented a personal gift by Brian Schlegel in appreciation.
Bruce Peak is heading to Melbourne shortly for meetings with the AFL with the aim of working collaboratively to provide more opportunities to Samoans through AFL.
The Aussie rules match was part of of a weekend of sports at Faleata cricket grounds where the Wanderers Cricket Club hosted 4 teams competing in 20/20 cricket for the Prime Ministers cup.