Fiji to play hosts to NZ?
Friday, June 08 2012 @ 08:30 am ACST
Contributed by: Rod Shaw
Views: 1,504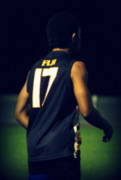 Fiji, whom I thought performed very credibly at their inaugural International Cup in 2012, are now building on their start. AFL Fiji has begun building the national side for a likely friendly match against New Zealand later in the year.
AFL Fiji have commenced a weekly 9s club competition every Sunday at Albert Park in Suva in their bid to secure players to form a national side to take on the NZ Hawks.
AFL Fiji spokesperson Lupe Wolfgramm said they had two teams competing since last month.
Wolgramm said they were hoping to get more teams in the upcoming rounds to raise the standard of the competition. There are three other teams in the pipeline to add depth to the competition.
"We have a friendly encounter lined-up against New Zealand and the purpose of this weekly competition is to get a national team for the games against NZ."
The New Zealand team will be touring the country sometime later this year.
Wolfgramm said they had yet to confirm the dates of the friendly international matches.
She said they have also planned to go out to secondary schools and run clinics.
For more see:-
http://www.fijitimes.com/story.aspx?id=203213