Hey boys, it's Balwyn Calling!
Thursday, June 07 2012 @ 08:30 am ACST
Contributed by: Rod Shaw
Views: 1,797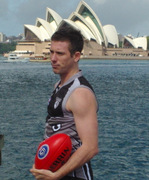 With apologies to Australian 70's sensation Skyhooks, current NZ captain Andrew Crighton has made his senior debut for the Balwyn Tigers in Division One of the very strong Melbourne metropolitan league, the Eastern Football League.
Andrew Crighton, 24, landed with the Tigers for pre-season after coming across the Tasman to improve his footy. He moved to Australia in November with the intent of lifting his game, lobbed at Balwyn Park for the first pre-season session and hasn't looked back. Crighton had achieved almost everything he could hope to in New Zealand.
Six years in the national team, the New Zealand Hawks, which he has captained since 2010, combined with a premiership in 2008 for home club North Shore in the Auckland league (
http://www.aafl.co.nz
) left little more to achieve.
He said the club turned out to be a perfect fit. "I've always had an affinity with the Tigers; I played for the North Shore Tigers back home," he said. "Also, I'd heard a lot about the EFL and that it was one of the best leagues around. It's been fantastic. "It's nice to train with 50 blokes instead of five. The boys have been great not too many sheep jokes, either, which has been nice."
Crighton was a handy rugby union player until, at 17, he went looking for a way to stay fit in the off-season, and discovered AFL.
Having impressed coach Daniel Donati with his pre-season efforts, Crighton went about earning a senior spot, turning in consistent performances in the reserves.
It was enough for force the selection committee's hand, and he lined up on the half-back flank on Saturday for the Tigers' win against Scoresby. Donati said Crighton played his role for the team. "He's been our best twos player so far. He would be winning the best and fairest at this point," he said.
Crighton's profile and international experience make him a fascinating test case for the AFL's efforts to develop the game abroad.
For more see:-
http://www.heraldsun.com.au/afl/local...44e7990415
http://m.heraldsun.com.au/afl/localfo...6382626760