Nine PNG players make 2012 South Pacific AFL Team

Hot off the presses is the official media release from the AFL promoting the South Pacific Under 16s squad for the 2012 NAB AFL Under-16 Championships between July 7-14.
Nine PNG players have been named in the South Pacific team that will travel to Sydney, Australia, to play in the 2012 NAB AFL Under-16 Championships in July. The players, Ori Nilmo, Scott Johnson, Daniel Giteau, Luke Savere, Hosea Wartova, Tamata'ane Rai, Michael Macca. Harry Kambuou and Ben Tirang are members of a 25-player team that represents the best Under 18 talent from AFL academy programs and competitions that are conducted throughout the Oceania region.
The team will be coached by Australian David Lake, who coached South Pacific in both 2010 and 2011. Other nations represented in the South Pacific are; Vanuatu, Nauru, Papua New Guinea, Fiji, Samoa and Tonga.
The South Pacific team will travel to Sydney, on July 4 to compete in the 2012 NAB AFL Under-16 Championships between July 7-14. The championships include eight state teams and a World XVIII team. Matches will be played at Blacktown International Sports Park.
South Pacific's fixture
Sunday July 8
WA North West v South Pacific
Wednesday July 11
Flying Boomerangs v South Pacific
Saturday July 14
South Pacific v World Team
AFL Asia Pacific Development Manager Andrew Cadzow said the players will take another step in the International Talented Player Pathway.
"Being a member of the South Pacific team is a chance to play at a higher level against the best underage players in Australia. AFL coaches and recruiters will watch them play which could lead to further opportunities.
"With 18 of the 25 player squad under 16 in 2012 the strength of Pacific Football is growing quickly," he said.
This is the third team to participate in the championships After defeating the World 18 in 2010 the South Pacific team won their first match against a traditional state, Tasmania, last year.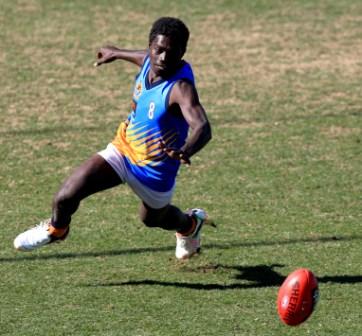 PNG's Brendan Beno, currently an international scholarship holder with Brisbane Lions, in action last year for the South Pacific.