2012 AFL Fiji Nines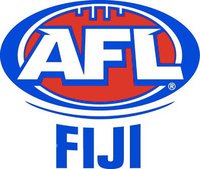 After the debut of Fiji 9s in March last year; the 2012 version kicked off on Friday May 4 at Albert Park with 5 teams and over 60 players turning out.
AFL Fiji reporting that the 5 teams were the Nausori Delta Blues, the Nauluvatu Eagles, the Raiwaqa Bulldogs, the City Swans and the Cunningham Red Hills.
AFL Fiji paid high praise to the players and their team captains for co-organising the first leg of the tournament – as with no sponsorship from the Fiji Government, or the AFL, and no equipment from either, no prizes, other sponsors and since the return of Glen Butler (inaugural AYAD development officer) to Australia also the lack of a development officer.
The captains on the opening day were :
Eroni Kakaivalu (Cunningham Red Hills – finished 5th)
Sulio Magiti (City Swans – finished 4th)
Maciu Raida (Raiwaqa Bulldogs – finished 3rd)
Bill Tuni (Nauluvatu Eagles – finished 2nd)
Max Wolfgramm (Nausori Delta Blues – finished 1st)
AFL Fiji proudly pointing out that this years' FIJI NINES goes down in history as the first locally organised and player-supervised footy tournament in Fiji.
The concluding round, held last Friday May 11 saw 50 players available for 4 teams with the Raiwaqa Bulldogs unable to field a squad. In wet and windy conditions at Albert Park, the Blues 1.6. (12) got up over the Eagles 1.1. (7). The Swans then overcame CRH, 3.8. (26) to 1.1. (7); followed by taking on the Eagles for another win 4.4. (28) to 4.1. (25) in a tight matchup. The last pool game saw CRH 5.1. (31) up over the Blues 3.4. (22).
The Grand Final was held between the City Swans 7.7.(49) and Nausori Delta Blues 6.8. (44). The Swans took away a $50 first prize from the $100 pool prize collected over the two weeks of the matches.
AFL Fiji thanked the Suva City Council for its ongoing support.