Vietnam Swans defeat China Reds in ANZAC Friendship Match
Thursday, April 26 2012 @ 08:50 pm ACST
Contributed by: Shane Hendrickson
Views: 2,649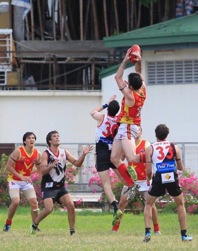 The Vietnam Swans have defeated the China Reds in a hard fought contest in the third instalment of the ANZAC Friendship Match in Vietnam.
The match was played in warm conditions in Vung Tau, where the Australian Army was based during the Vietnam War, with many footy matches played by troops on the Lord Mayor's Oval between 1966 and 1971. The ground has since become a greyhound-racing track, but remains a fitting location to hold the ANZAC event.
The event has already become the most important fixture on the Vietnamese football calendar.
Each player wore a black armband on either arm to remember and symbolise the loss suffered by all, to celebrate the present and to look forward to the future.
A Legends and All Stars match preceded the main event, which allowed for those who were not playing for the Swans to don a jumper and have a fun kick of the Sherrin.
The main event was a lot tougher but still played in the ANZAC spirit. The China Reds, made up of players from the Beijing Bombers and Shanghai Tigers, had the initial edge going into the first break, but the hosts fought back and managed to lead at the main break by two points.
A four goals to one third quarter helped the Swans to set up a buffer but they still had to fight hard for a well-deserved victory. The final score showed the Vietnamese hosts 12.7.79 to the visiting Chinese 7.14.56, with a final margin of 23. Ryan "Revo" Evans from the Swans was judged Best on Ground.
Reflecting the intensity and passion that the match was played in, when asked to comment on the game, weary Swans player Nick Shiells replied while limping off the field, "Yeah, I feel like I have just played in an ANZAC Match".
The event once again raised money for Swim Vietnam to help prevent children drowning in Vietnam. In Vietnam, more children die from drowning than car accidents. This issue has become a passion for the Swans wanting to give back to the country that has been so welcoming to them. Proceeds also go to support the local Vung Tau orphanage.
Images courtesy of Mark Stennett Photography - www.driftphototours.com