Home Team Edinburgh Win SARFL Haggis Cup
Thursday, April 26 2012 @ 08:15 am ACST
Contributed by: Tobietta Rhyman
Views: 2,647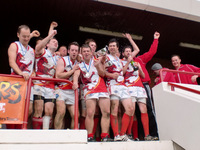 After defeating semi-finalists Manchester Mosquitoes, Edinburgh bloods have successfully overcome a lot of tough local and international competition to seize the coveted Haggis Cup from their Scottish rivals, Glasgow Sharks.
Bloods captain and coach Alan Snow McSparron's speech after their triumphant win (and all the results) can be seen below.
Despite the small size of the league in Scotland, there was a big turnout for the Haggis Cup, arguably one of the most famous pre-season competitions in European footy, with teams coming from as far wide as Dublin and Milan. This year there was also a women's division, with up and coming Scottish and English talent teaming up with Irish teams from Dublin and Kilrea.
Apart from the two women's teams, the first games were in group stages with the winners from each group going through to the Haggis Cup finals. Because there were three groups, the top team automatically qualified with the two runners up playing each other in a semi-final for the second finals place.
The second placed teams from the group stages played each other for the Haggis Plate, and the third placed teams played each other for the Haggis Bowl. The women's game was held as a curtain raiser for the Haggis Cup Final.
Competing Teams:
Group 1
Edinburgh Bloods
Milano Eagles
Southampton Titans
Huddersfield Rams
Group 2
Wimbledon Hawks A
Dublin Demons
Aberdeen Eagles
Group 3
Glasgow Sharks
Wimbledon Hawks B
Manchester Mosquitoes
Women's Division
Dublin Angels
Kilrea Kookaburras
Haggis Cup Results:
Game 1: Edinburgh Bloods 3.8(26) def Milano Eagles 3.2(20)
Game 2: Huddersfield Rams 5.9(39) def Southampton Titans 1.0(6)
Game 3: Wimbledon Hawks B 5.5(35) def Glasgow Sharks 4.6(30)
Game 4: Wimbledon Hawks A 4.4(28) def Dublin Demons 2.6(18)
Game 5: Milano Eagles 5.2(32) def Huddersfield Rams 3.7(25)
Game 6: Edinburgh Bloods 9.4(58) def Southampton Titans 1.1(7)
Game 7: Dublin Demons 5.4(34) def Aberdeen Eagles 3.7(25)
Game 8: Manchester Mosquitoes 5.3(33) def Wimbledon Hawks B 4.0(24)
Game 9: Southampton Titans 3.4(22) drew Milano Eagles 3.4(22)
Game 10: Edinburgh Bloods 6.7(43) def Huddersfield Rams 4.4(28)
Game 11: Manchester Mosquitoes 5.5(35) def Glasgow Sharks 3.1(18)
Game 12: Wimbledon Hawks A 3.4(22) def Aberdeen Eagles 1.2(8)
Haggis Plate Semi Final: Glasgow Sharks 2.6(18) def Aberdeen Eagles 0.1(1)
- Winner Glasgow Sharks plays Huddersfield Rams in Plate Final.
Haggis Bowl Semi Final: Wimbledon Hawks B 4.3(27) def Dublin Demons 3.2(20)
- Winner Wimbledon Hawks B plays Milano Eagles in the Bowl Final.
Men's Plate Final: Huddersfield Rams 4.4(28) def Glasgow Sharks 3.3(21)
Men's Bowl Final: Milano Eagles 4.2(26) def Wimbledon Hawks B 2.5(17)
Haggis Cup Semi Final: Manchester Mosquitoes 4.8(32) def Wimbledon Hawks A 2.5(17)
- Winner Manchester Mosquitoes plays Edinburgh Bloods in the Haggis Cup Final.
Women's game: Dublin Angels 6.11(47) def Kilrea Kookaburras 5.3(33)
Men's Finals: Edinburgh Bloods 8.4(52) def Manchester Mosquitoes 2.0(12)