Marngrook the long ago story of Aussie rules
Friday, May 18 2012 @ 06:36 am ACST
Contributed by: Troy Thompson
Views: 1,670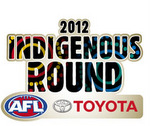 This audio is from a few weeks ago but we thought we'd give it a run during the AFL's Indigenous Round.
Unfortunately the video that showed the book and the story has been removed from the site.
"Marngrook: the long ago story of Aussie Rules" is a children's book written by Titta Secombe and illustrated by Grace Fielding. This is the first book for traditional owner Titta Secombe, a Gunditj-Mara woman, who was born in Horsham and has lived there and in the Grampians her whole life.
Her book tells the story of how Australian Rules came about. The story is that it developed from Marngrook (though disputed by some and probably more accurately influenced by Marngrook), a ball game played by Aboriginal people more than 150 years ago in North Western Victoria. The book is set in the Grampians and based on a story that Titta has been listening to since she was a child.