USAFL financial roles on offer
Tuesday, April 17 2012 @ 09:00 am ACST
Contributed by: Troy Thompson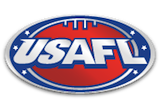 The USAFL has received a small number of applications for the league roles of Treasurer and Account and are seeking further expressions of interest for the two positions.
The roles will begin June 2012 when the Board position of Treasurer will be vacated along with the contracted position of Accountant. The period for both positions will be from June 2012 until October 2012, when the new Board is elected at the Annual General Meeting. For full details on the two positions please click here.
The USAFL Board would like to have both positions filled by May 30, 2012. Applications should be submitted A.S.A.P. via email to Andy Vanica, USAFL President.
Comments (0)
---
World Footy News
http://www.worldfootynews.com/article.php/20120417083016778