ADF Carnival to be held at Moorabbin
Thursday, April 12 2012 @ 11:15 am ACST
Contributed by: Troy Thompson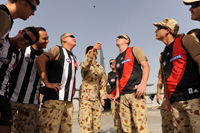 The St Kilda Football Club will host the 2012 Australian Defence Force AFL Carnival at Moorabbin Oval next week. The ADF Carnival will see service men and women from the Army, Navy and Air Force play a round-robin competition for their respective titles.
Chief Executive Officer of the Saints, Michael Nettlefold said it was an honour for the Club to host the ADF at its traditional home ground, Moorabbin.
"In the lead up to ANZAC Day, it is fitting that we have an opportunity to support and recognise our service men and women. Moorabbin is a fantastic ground and we're very proud to see it utilised by the Defence Force," said Michael Nettlefold. "Moorabbin is a significant part of our Club's rich history and hosting events like this will ensure it continues to play a role in the future of our great game."
Australian Services Australian Football Association (ASAFA) Chairman Brigadier Matthew Hall said the national championship is the pinnacle of Service representation for ADF footballers. "The carnival provides a great opportunity for players to represent their respective Service and the Australian Defence Force," Brig Hall said. "Spirited and fair competition is the hallmark of the championship and spectators are strongly encouraged to witness the high-quality action."
ADF Carnival
Moorabbin Oval
Linton St. Moorabbin
SATURDAY, 14 APRIL
11AM - Army Training Session
[Senior Coach, Scott Watters and Saints players will be in attendance briefly on Saturday morning]
TUESDAY, 17 APRIL
ARMY V NAVY
11AM – Women
1PM – Men
THURSDAY, 19 APRIL
NAVY V AIR FORCE
11AM – Women
1PM – Men
SATURDAY, 21 APRIL
AIR FORCE V ARMY
11AM – Women
1PM – Men
The Carnival Presentation Dinner will be held following the final game on Saturday, 21 April at 'Sandy by the Bay', the Home of Saints VFL affiliate, Sandringham Zebras.
Comments (0)
---
World Footy News
http://www.worldfootynews.com/article.php/20120412113751612