Fifth AFL Unity Cup 2012 played in Melbourne
Sunday, April 01 2012 @ 09:40 pm ACST
Contributed by: Stephen Alomes
Views: 2,983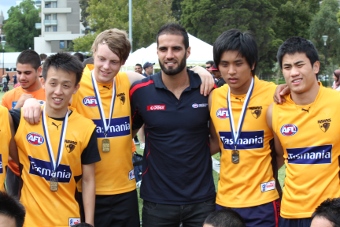 The fifth AFL Unity Cup, which brings together particular and mixed multicultural footy teams from all around Australia, came to Holland Park ovals in Kensington, a few torpedo punts away from North Melbourne's Arden St ground, on the last Sunday in March, the month which celebrates Harmony Day around Australia.

This festival of footy and community festival was started originally by Essendon. Supported by the AFL Multicultural Program and the Australian Federal Police, it featured teams from Perth, Adelaide, Sydney and Melbourne. The teams played under 18 footy in the AFL 9s format – 9 a side played on a small oval marked out on the artificial turf ground at Holland Park and smaller grounds on the adjacent ovals.

In this game, contests are for the football rather than tackling contests as it is a game of limited contact and with several varied rules. The result was exciting and skilful contests.

The winning team, MUJU Peace Club, which combines Jewish and Arab members, defeated the Hawthorn supported Box Hill Dragons in the final, 6.2.38 to 2.1.13. The premiership cup and best player awards were presented by Bachar Houli, the Richmond (and formerly Essendon) player, who enthusiastically posed for photos with the teams.

Several AFL clubs, including North Melbourne, Essendon, Western Bulldogs and Hawthorn, have been active supporters of the program as have the multicultural officers of the AFL and AFL Victoria and their interstate counterparts. Players' diverse family backgrounds included Africa, Asia, the Middle East and beyond.

The Western Bulldogs supported three affiliated teams, the Newport Islamic Society, UHS / VU Flemington and MUJU Peace Club. MUJU team's players came from Bialik College and Newport Islamic Society, inspired by the Israeli Palestinian team in the 2011 International Cup of 21 nations which was played in Sydney and Melbourne.

Similarly, the Dragons arose in part after Box Hill North's engagement with visiting Japanese players as well as the large Chinese population of the area.

Brendan McFaull, Perth coach and co-ordinator of the Bakari Royals, reflected on the progress. East Perth WAFL club once thought it had a limited zone due to its multicultural character, but now the new programs have produced top junior and senior players. 'Bakari' means 'promising' in Swahili, and the AFP also hopes that community engagement through footy encourages inclusiveness and social harmony.
Educational groups presented information on training opportunities, and as sponsors, as footy development at its best proceeds in association with educational development.

All players received a medal for participation which can be significant for individuals who are not always used to winning awards.

It was a great day of Australian Football and a community festival.
For another multi-cultural related story, see AFL and Australia Post announce Multicultural Ambassadors.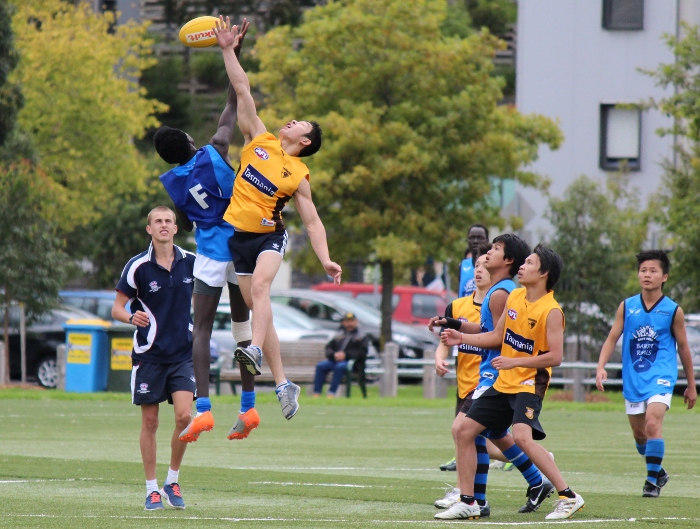 And the big men fly - for unity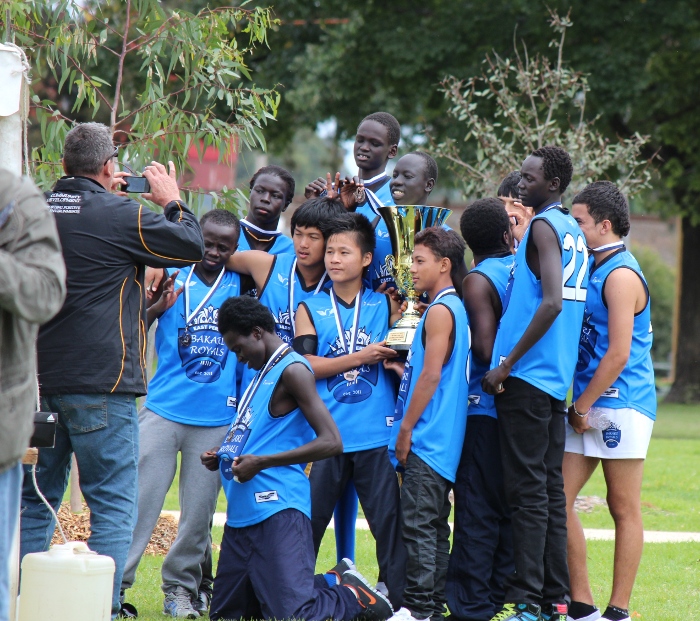 Next Year? Brendan McSpaull and Bakari Royals holding the Unity Cup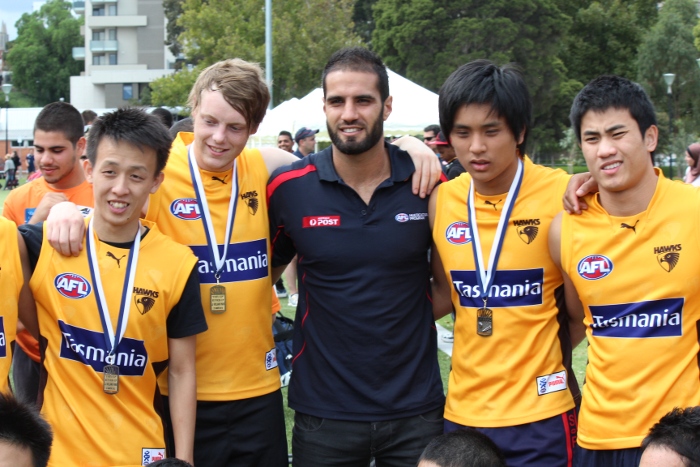 AFL Multicultural Oficer and Richmond player Bachar Houli and Dragons