St Patrick's Day in Vietnam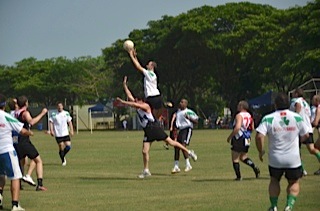 A healthy crowd of around 200 onlookers and players were present to see the excitement unfurl as the Australian-Irish Swans took on the Irish-Australian Gaels in Vietnam for St Patrick's Day. More than 50 players, from nine nations, were split into two mixed sides of 15, with each side having plenty of subs.
The scoring was modified with a goal in the net only amounting to three points, and a score over the crossbar only registering one point.
15 minutes quarters were played, alternating between codes and balls (rather than playing International Rules), beginning initially with the native Irish game. A tightly contested first half meant that scores were tied going into the big break. The second half was a lot less confusing as everybody had become more accustomed to the rules, but the Irish-Australian Gaels' persistence paid off and they managed to wrap up the game with some straight kicking in the fourth quarter.
The game was played in great spirit and both teams got together after the match for dinner and to celebrate St Patrick's Day with a few pints of Guinness.
A raffle was held after the game, which generated 9.5 million VND ($450USD) for Loretto, an organisation which helps disadvantaged children through education programmes.