Kanga Footy/ AFL London Pre-Season Tournament
Monday, March 19 2012 @ 11:42 am ACDT
Contributed by: Tobietta Rhyman
Views: 2,539

On the 10th of March on Clapham Common, London, the Sussex Swans and some of the AFL London teams got together with London's Kanga Footy touch players to compete in the Kanga Footy pre-season competition. Unlike normal football played in AFL London, Kanga Footy is 9-a-side, non-contact and the teams are required to have at least two female players on the field at any time. To further encourage the involvement of women in the game, the rules are modified so a goal kicked by a female full forward is awarded 9 points.
Eight teams took part in the competition: Two Kanga Footy "All Stars" and combined "Allied Forces" teams, the Sussex Swans, and five AFL London teams- Wandsworth Demons, Wimbledon Hawks, North London Lions, Putney Magpies and West London Wildcats. The games were two halves of 8 minutes, played on two ovals on the Common.
After all the teams had played their group matches, the two top teams, West London Wildcats and North London Lions, played against each other in the finals, with third place Sussex Swans only just missing out on percentage points. Following a close match in the finals, the North London Lions managed to get the edge over the Wildcats, and were awarded the Kanga Footy Pre-Season cup.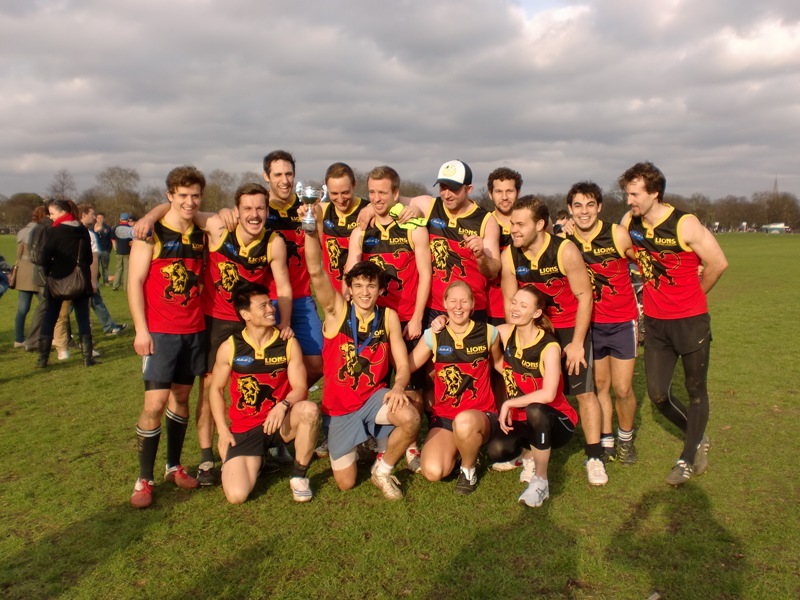 Also presented with awards were the best male player Levi Pederson Fernandez from North London Lions, and best female player, Edel Marshall, an Irish GAA player who was competing with the Sussex Swans.