AFLPNG's big Australia Week day this Saturday

It's Australia Week in PNG and there's a big weekend coming up. The week runs from March 5 to March 11; however the big day for AFL PNG is Saturday with what is probably the biggest annual event on the AFL PNG calendar.
Saturday March 10 sees the action on field at Amini Park.
10.30 AM - The first bounce for the day will herald the Veterans match.
11.30 AM – The Girls go at it (North vs South)
12.30 PM – a superclinic, (for the 5-12 yr olds) followed by…..
1.30 PM – … a Meet & Greet session.
2.00pm – the BIG game between the 'Emerging Mosquitoes' and the AFLPNG Academy.
After the final siren, the focus switches to the Dynasty Restaurant at Vision City where from 6pm onwards will be the Australia Week AFLPNG Sportsmans Function.
Amongst the special guests advertised to appear is the recent Yarrawonga recruit in Brendon Fevola. Also set to appear are Chris Johnson and Tim Notting and the night will be MC'd by Richard Champion.
For further information, see the flyers below :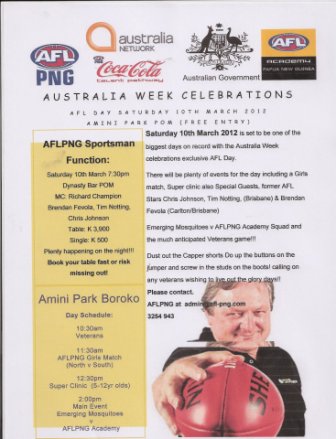 Australia Week general flyer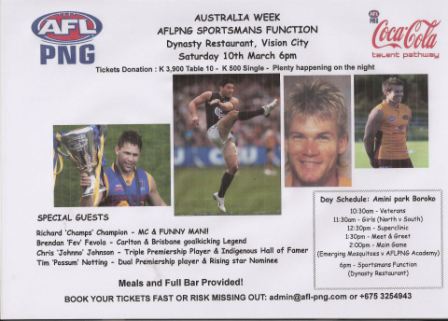 Sportsmans night flyer