Call to Arms for Aussie Spirit vs France
Wednesday, February 29 2012 @ 09:11 pm ACDT
Contributed by: Aaron Richard
Views: 1,772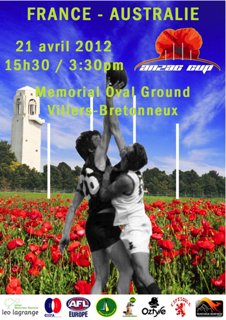 The annual Anzac match between the French national team and the "Aussie Spirit", a team drawn from Australian expats resident in Europe, is back on this April, with the event now in its fourth year.
The call has been put out for players to join the Aussie Spirit - the team will assemble on Friday 20th of April for a training session followed by an informal battlefield tour of the Somme region.
A pre-match dinner will be held with both teams together on the Friday night and the match will be played on Saturday 21st of April. Celebrations will continue through Sunday. For the rest of the week until the dawn service on Anzac Day, Wednesday 25th of April, the city will organise a few events.
More detailed information regarding the Anzac Cup weekend will be available in the coming weeks, but to signal your interest in being part of the Aussie Spirit, contact the organisers via alban.schieber AT gmail.com
The Anzac Cup is now into its fourth year and has become a key part of the Anzac Day activities in the Somme. The CNFA are endeavouring to ensure that this event remembers the fallen, but also establishes long lasting relationships between the people of France and Australia.
the organisers believe it is important to not commercialize this event and are not seeking sponsorship. The event does however incur costs and they are looking for individuals and organizations who may be able to make contributions to ensure the event continues to run professionally and participant's costs are kept to a minimum. If you are interested in becoming a benefactor of the Anzac Cup please email alban.schieber AT gmail.com.