Aussie X on a mission
Wednesday, February 22 2012 @ 09:22 pm ACDT
Contributed by: Brett Northey
Views: 3,921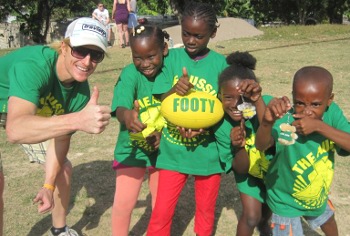 Over the last few years we've featured several reports on Aussie X, an initiative in Canada to promote Australian football whilst making a positive social impact. The latest publicity regarded an appearance on the Canadian version of TV program Dragons' Den. So what is the primary motivation for Aussie X, is it really impacting Aussie Rules in Canada, what does the future hold and will we see it spreading across the world? worldfootynews.com talked to founder Emile Studham above this growing project.
Emile Studham is the founder of Aussie X in Canada and although an Aussie born and bred, he has spent a lot of his life in Canada. As an exchange student he studied Kinesiology at the Universtity of Western Ontario in London, which Emile describes as "amazing and it certainly changed my life".

His first experience of footy in Canada goes back to a short stint playing with the Toronto Dingos in 2001 (drawn back north by a Canadian girlfriend), after which he returned to Australia to play finals with the Wonthaggi Blues and finish his degree. He then got involved with the Canadian national squad, the Northwind, for the 2002 International Cup, before returning to Canada.

Emile takes up the story, "In 2002 I completed a Dip Ed and became a secondary Phys Ed teacher and Maths (up to grade 10). Returning in 2003, I started Auskick Canada with the support of Greg Everett. My best mate and I, Daniel 'Lunny' Lunn caught TTC to schools and day camps all over the city of Toronto, carrying a hockey bag of Footies and taught over 11,000 students how to play our great game. Greg, Sherelle Kelly and I also created the Etobicoke Kangaroos in that year - the 10th team in the OAFL. It was a pretty wild year... unbelievable at times... and we even made the Grand Final, only to go down to the Toronto Dingoes. I am very proud of the achievements of 2003".

Emile returned to Melbourne, before a friend's wedding drew him back to Canada briefly in 2007, and then in 2008 he took up the role of Director of Marketing and Game Development for the OAFL. "I was brought over by Marty Walter and worked out of his office for a few months, helping to grow the game and source sponsorship for the league. It became apparent very quickly, that the future of the game lied in the development of juniors, so I called a few old schools that I taught at and BANG - junior development was back on again in Ontario."

But it wasn't until June 6th, 2008 that Aussie X was officially created. We were curious as to why it was set up separate from the previous work. "It was all very similar... I just became a better teacher / instructor as I had taught at Kew High school in Melbourne from 2004-2006, and I felt more complete as a business owner... a little wiser I guess!"

Aussie X then expanded to do corporate development programs and include other Australian sports in netball and cricket, and there was the widely publicised appearance on Canada's version of the Dragon's Den (see the video here) where they secured buy in from Jim Treliving, Chairman of Boston Pizza. Is that partnership developing?

"Yeah it is. DD was an awesome experience, one I will never forget. Our pitch actually went for 48 minutes and on TV you see 7 1/2 minutes, so you can determine that a HEAP of the pitch was cut out. We had the Dragons running around and playing like little school kids, asking questions about Australia and laughing the whole time... there was some hilarious moments that the TV didn't show - I hope we can get all the footage one day!"

"Cricket especially has helped our business grow immensely and has been a genuine key to our success. There is already a huge Sub continent population here in Canada (esp. Toronto and Vancouver). What we find is that the kids want to play Cricket but the average Canadian teacher does not know enough or have the skill set to teach Cricket in schools. We are often brought in by the school to help integrate Cricket into a school's curriculum....and Netball is starting to move that way as well!"

Aussie X has also delivered sports based programs in Kenya and Jamaica.

"Both phenomenal experiences. Jamaica: we were on a meditation retreat and connected to an orphanage in Barret Town in Montego Bay. We spent a day mucking around with the kids there and then went to a field in the middle of the town and just started up a game of Cricket - kids came from all around and it was awesome!"

"Kenya (Nairobi) was a bigger 2 week trip and we worked with 5 schools in the slums of Kibera! The kids lost their mind for Footy. See the video. Many had never even seen a ball before, let alone a 'golden footy'. The kids spoke excellent English as well, so we were able to teach them some Aussie slang words and even sung some Aussie folk songs like 'Give me a home among the gum trees!'"

"Athletically, the kids were amazing... especially for very little activity when playing with balls (catching and throwing), their ability to see an action then mimic it was phenomenal. We stayed at a school, which doubled as an orphanage and got very close to 28 children who stayed at the orphanage every night... played Footy and Cricket... sung and danced together and watched dvds and read books. We plan to do an outreach project every year now and aim for our instructors to enjoy the experience as well".

worldfootynews.com applauds any kind of positive childhood development outcomes and we love that footy is often a success in that area, something we're keen to promote, but obviously our key focus is the growth of Australian football, so we selfishly narrowed our questions to that specific area.
Was India being looked into? "Nothing yet, but it is in our sights. There is a big sport movement happening in India and we feel we have a great product that can help many in-need communities and further show the importance of Physical Education for children in schools. We have met with Sudip Chakraporty from AFL India. He is a fantastic fella and certainly helping us to understand the Indian market".

In 2008, Aussie X partnered with the Ontario Trillium Foundation and was awarded a grant to develop a Junior Australian Football League within three at-risk zones of the Toronto Police Department. Is that league still going and are any of those youngsters "graduating" to play in the Ontario senior league?

"An awesome project that we are very proud of. The OAFL was awarded the grant and Aussie X administered the programs and did all the leg work with the schools and principals themselves. 45 kids registered last summer for the OAFL Humber South junior footy league! Brett Kirk happened to be here for the second round of games! Perfect scenario really".

"It has been a challenging project as the kids are considered Youth at Risk - and many have disconnected families, so when it came time to register children for the league, it was unknown if the notes home were even being read by a parent or guardian. We are running the junior league again this year and aim for 100 kids! See this video".

So will Canada see a sudden outbreak of footy. Will there be that critical mass to have a self-sustaining game that becomes well known across the land? What would it take, can Aussie X deliver it? We noted that Emile and his team had spent quite a few years developing footy in Canada, with thousands of kids exposed to the game. In fact the Aussie X website boasts that in 2011 they had "already engaged over 60,000 individual kids in 130 schools and 60 camps".
That's tremendous numbers, yet from afar worldfootynews.com has yet to see Canada have a real "break out". With apologies for perhaps coming across as heavily scrutinising, we wanted to ask the hard questions. With so many countries now playing the sport, will one really take a big leap forward? So far in Canada we're not really seeing dramatic growth in the number of OAFL clubs or multiple divisions, or a strong junior league. And the senior Northwind side doesn't look any closer to penetrating the top echelons of international football, although admittedly the top levels are an ever improving standard. Is that a fair statement regarding the OAFL - obviously there is some growth in teams? Is it just a matter of time for some stronger flow through in that area, or does Emile think there's a pathway disconnect somewhere preventing major growth for the OAFL? Is there one key thing he thinks Canada needs to take the next step and start developing not 100s of senior players but 1000s?

"I feel we do a great job spreading the awareness around the sport, but we do not have the manpower / resources or funds to have an individual devote their time to connecting the kids from our program into the OAFL clubs. Essentially, that is the role of the OAFL. Admittedly, we have tried many strategies to do this and as a small business, we have put a lot of hours and dollars into making this connection - it has clearly been identified that for greater success, we need a person solely devoted to connecting to the kids from our programs with a focus to get them into the OAFL. That is what we are working on right now.... finding a person to fill this role and find out how it can be funded as it does not really create any revenue. We are close!"

"Secondly - when we reach out to students that are 14-18, they often have a chosen sport they are playing, making it hard for them to choose footy. We will see some kids who we met at 10, now become 14-15 and LOVE FOOTY! This all takes time...more than people know or understand. Furthermore, the sporting system here is much different to Oz. Kids are used to playing High school sport, NOT so much club sport... two quite different models".

So what is next, will Aussie X spread its wings beyond Ontario and the African program? Any moves into other parts of Canada?

"We are operating in Ottawa, London Ontario, and Vancouver. Calgary in May for a program and we aim to launch Calgary in September 2012".

On Dragons' Den a move into the United States was mentioned, so we asked if they hope to bring footy programs to both corporates and youth in the near future south of the border? And if they'd had any discussions with the USAFL along those lines?

"We have the states in our sights, but we have much to do in Canada before hand. We do see massive growth potential with our Corporate Team Performance programs and we will be focussing on this in 2012. This just means that the stronger the business gets, the more kids we can get out to ya know. I love working with kids, but school budgets are being cut every year, making the corporate sector that much more important for our schools and camps programs. No formal chats with USAFL as yet".

Presumably your work is of interest to the AFL. Have you had much to do with staff from Game Development over the years?

"Couple chats so far with Tony Woods - great fella. in 2003 when we started Auskick Canada, we were awarded 200 Auskick packs as Simpson lost the sponsorship. We shipped them over and used the kids to grow the program".

Finally to the long term goals for Aussie X. Is it ultimately about improving the lives of children, developing a profitable business, or growing footy and other Aussie sports? What's the key outcomes over the next 10 years? Some or all of those?

"A little bit of everything you mention. As mentioned, the stronger and more profitable the business can become, the greater impact we can have. Growing the sport will be a by-product of our success. Logically we have to build the business before we actually grow the sport and create leagues etc, because the creation of leagues and promoting the sport do not often create revenue. That`s why we submit grants and look for funding support in these areas and so far with the Trillium foundation we have had some success. Three years on a project to get 45 kids registered in a league... you can see how this is not easy work... it required persistence and focus. We have learnt many lessons, wasted time in areas that did not see much happen and then turn our head and see a little silly idea explode in our face and turn into a beauty! We now know what`s required for the sport to grow... we will do these things over and over again and the persistence will pay off".

Many thanks to Emile Studham and Aussie X for the detailed interview and best wishes as Aussie X expands over the coming years.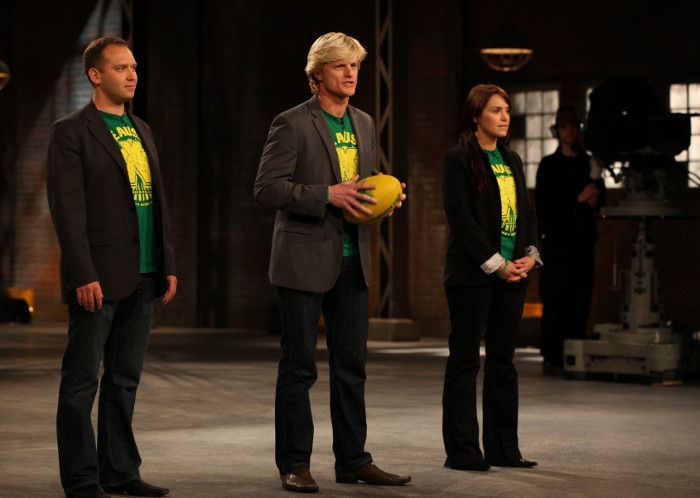 The Aussie X directors on Dragons' Den. Emile is pictured centre.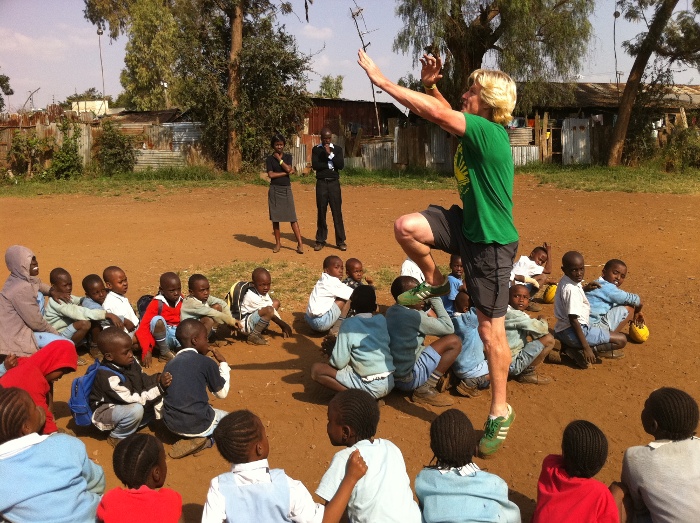 Aussie X in Kenya.