AFL Youth Oceania Cup 2011 - Round 1

The AFL has released the results from the opening round of the 2011 Youth AFL Oceania Cup played today at Albert Park in Suva, Fiji. Also, the Flying Boomerangs kicked off action today with a match against an Oceania Squad selected after yesterdays Lightening Tournament. Obviously, the Oceania squad had limited preparation time and the result is far less important than the activity itself.
AFL Youth Oceania Cup 2011 – Round 1
Flying Boomerangs 21.15.(141) def Oceania Under 15s 2.3.(15)
Man of Match: Isaac Rokeby ( Boomerangs)
Round 1 matches :
PNG 8.5.(53) def Fiji 1.0.(6)
Nauru 9.8.(62) def Vanuatu 3.1.(19)
NZ 7.3.(45) def Tonga All Stars 2.1.(13)
The Youth AFL Oceania Cup continues tomorrow (Thursday) at Albert Park, Suva:
9am: PNG v Vanuatu
10am: Nauru v Tonga
11am: New Zealand v Fiji
12pm: International Workshop and Coaching Course. Presenters: Kevin Sheehan, Tony Woods, David Lake.
1pm: PNG v Tonga
2pm: Nauru v Fiji
3pm: New Zealand v Vanuatu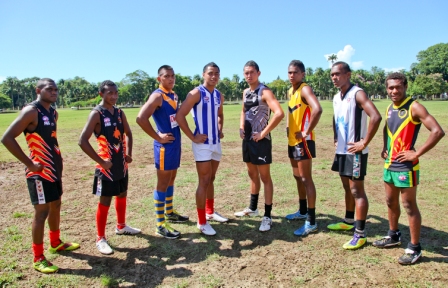 Above : team captains from left to right: Michael Macca & Jason So-ong (PNG co-captains), Yoshi Harris (Nauru), Sione Tupou (Tonga), Rhys Panui-Leth (NZ), Jermaine Lewis (Flying Boomernags), Solomoni Navuso (Fiji), Robin Norman (Vanuatu). And Below, appearing with AFL Ambassadors Nic Naitanui and Israel Folau.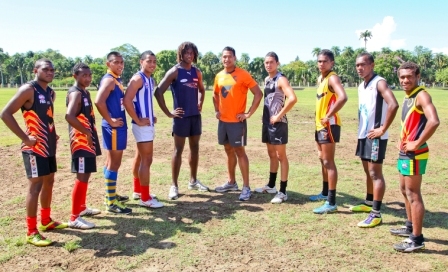 (images courtesy of the AFL).
Fiji One TV News clip of the day.