Irish nominated, no international scholarships upgraded
Tuesday, November 29 2011 @ 10:05 pm ACDT
Contributed by: Troy Thompson
Views: 1,587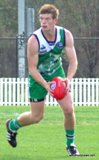 The AFL had a number of its deadlines today, Tuesday November 29, in regard to the rules relating to club lists. The deadline for all categories was 2pm today.
Unfortunately there are no surprises this year with international recruits from out of the blue. From an international perspective we take particular interest in the following two list deadline categories.
International Player Inclusion on Rookie List
Collingwood – Caolan Mooney (Ireland) - Mooney was previously signed with Collingwood in 2010 but not listed. He joins fellow Irish recruit Marty Clarke who returns to the club after a two year break, and Paul Cribbin who has completed his first year with the club in 2011.
Richmond – John Heslin (Ireland) - Part of Ireland's International Cup winning team and one of the few Irish recruits to have played the game at any level before joining an AFL club. Heslin (pictured) was signed earlier this year, apparently snapped up by the Tigers after Essendon originally chased the young talent. Richmond previously had Irishman Jamie O'Reilly on their list in the past two seasons, but he has now parted ways with the club and returned to Ireland.
These two players will be officially listed with their club's as part of the upcoming Rookie Draft.
NSW Scholarship Player and International Scholarship Player inclusion on Rookie List
Brisbane Lions – Richard Newell (NSW Scholarship)
Carlton – Matthew Lodge (NSW Scholarship)
Collingwood – Michael Hartley (NSW Scholarship)
Sydney Swans – Jack Lynch (NSW Scholarship)
So while the NSW Scholarship list has been somewhat hit and miss in converting players to the rookie list some have definitely made it through. No internationals have yet made the move to the rookie list though but we hope this time next year that we may see the first.
It was also reported this week that Irishman Chris McKaigue has rejected offers from both Port Adelaide and GWS and will return to Ireland.