AFL Vanuatu's big travel auction - and a new home ground
Thursday, November 24 2011 @ 09:30 am ACDT
Contributed by: Michael Christiansen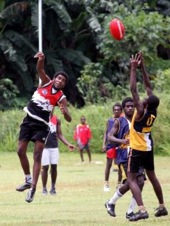 AFL Vanuatu is still young, but, the demands are increasing. Fund raising is well underway to help send the national U/16 team to Fiji next month (December) for the annual AFL Oceania tournament. Domestically, the AFL Vanuatu season is nearing an end, with the Grand Final scheduled for December.
The Auction
AFL Vanuatu is auctioning FIVE holiday packages. These include 2 return airfares to Port Vila and FIVE nights' accommodation at the Moorings Hotel, including daily tropical breakfast.
Bidding is via email to AFL Vanuatu. It is stressed that 100% of the funds will go directly to the AFL Vanuatu program. Winners will be announced Monday Nov 28th, and will have 7 days to finalise payment.
Bids and questions should be emailed to AFLVanuatu@gmail.com.
People can also check out the major supporters of the auction :
www.mooringsvanuatu.com
www.airvanuatu.com
Round 7
Saturday November 19 saw the 7th and final round for the 2011 season, with the Mele side pushing Erakor all the way. In the end, the slicker Erakor unit held out for an 11.14.80 to Mele 8.8.56 win. AFL Vanuatu report that the slick handball of Robert and the strong hands of Charlie were pretty well the difference along with some wasted chances late in the last quarter by Mele.
Old stager and Mele playing coach Mal Thiel showed the lads how to do it with 4 goals up forward. Four weeks back, Mele were handed a 70 point drubbing by Erakor.
The women's game saw Erakor hit the board early and taking a 4 goal lead into the first break. They cruised after that to a convincing 5.10.40 to Mele 0.5.5 win. Leisal at full back for Mele was kept busy along with Belinda, and for Erakor, their star, Diana was again dominant and had good support from Alisha and Sinia.
In the Under 12s, AFL Vanuatu reports that it was the Kensie and Keith show – who dominated the midfield and set up Sam Tait for 3 goals.
Erakor 7.6 (48) def Mele 0.1 (1)
A new home
It should also be noted, that these matches were played at the Kazza Field. AFL Vanuatu was excited to point out that this was the first round of matches played on what is Vanuatu's first full size oval - which has just been installed at Kazza Field next to the cricket field.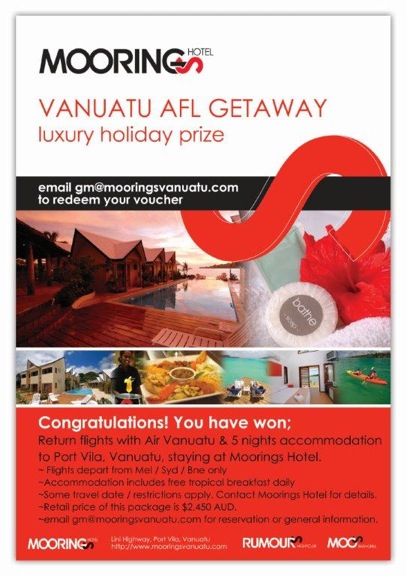 ---
World Footy News
http://www.worldfootynews.com/article.php/20111124084654767