Finn caps golden year with club award
Wednesday, November 30 2011 @ 07:37 am ACDT
Contributed by: Brett Northey
Views: 1,487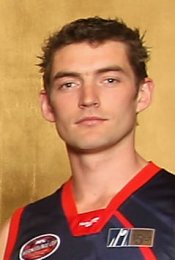 We recently reported that Ireland's Michael Finn had achieved a remarkable series of successes in 2011, winning the International Cup with his country, again making the World Team named from the tournament, and taking home the Frank Rosbrook Medal for the best & fairest player in Division 1 in Victoria's Northern Football League, playing for Heidelberg.

Just to add another accolade to round out the year Finn has comfortably won Heidelberg's best and fairest, polling 121 votes with the runner up Josh Houlihan getting 72 votes.

Every bit as important amongst the personal awards was winning the his club's MVP as voted by his teammates, an award that aims to recognise the club's most valuable player in the eyes of the playing group.

worldfootynews.com spoke with Finn and started by asking about the difficulties of juggling club and country commitments.

"Very tough, Heidelberg didn't have the depth of talent of other years so I was pretty much our sole ruckman, we had won 10 games straight when we I left to play the IC, and they lost the next game, we missed out on top spot by 1.37%. Not saying that we would have won if I was playing but they definitely weren't too impressed with me. For me though, the opportunity to play for my country again was more important than anything else".

Any thoughts of international retirement at age 30 or do you hope to defend the Cup in 2014? "My wife would love it if I was to retire, but definitely not ready for it myself yet. Will probably play another couple of years and look forward to defending the cup in 2014".

Do you think you'll return to Ireland one day? "Not at this stage, we have a happy life here in Melbourne and the way the economy is at home it is not likely that we will return soon. We have family here in Melbourne and in Perth so it makes it a little easier. But you never know things can always change".

So it looks like Ireland's imposing key position player will be back in 2014 to extend his stellar International Cup record.