Welsh Panthers in Roma to visit the Blues
Saturday, November 05 2011 @ 08:56 am ACDT
Contributed by: Aaron Richard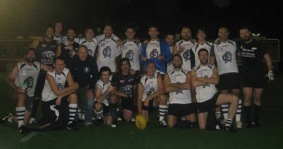 The end of October saw Welsh champions the Cardiff Panthers set off on their annual end of season tour. Previous tours have included visits to the Belfast Redbacks in 2009 and the Bordeaux Bombers in 2010. Having been crowned WARFL champions for the 3rd year running, the Panthers set off to the beautiful Italian city of Rome as they were courteously welcomed by the 2011 AFL Italia Grand Final runners up, the Roma Blues.
Most of the match day was spent taking in the glorious sights and sounds of Rome, including the Colosseum and Stadio Olympico, in 21C sunshine, and the night was still fine as the 8.30pm kick off arrived under the floodlights of the Roma Blues pitch.
The Blues were the first out of the blocks at the ball up and to the shock of many they almost completely shut out the Panthers in the first quarter, taking a 38-3 lead into the first break. The Panthers however have gone undefeated all season and their experience of playing high pressure games away from home came to the fore as they started to peg the Blues.
Eventually the stiff Rome resistance started to fail under the pressure and the Panthers started to move into the lead and out of sight and eventually they came away 100-71 winners. The fabled legendary levels of Italian hospitality with then put on display as the two teams ate, drank and very much danced the night away in the suburbs of Rome.
A quick trip to the Vatican with an unexpected sighting of Pope Benedict XVI followed the next day before the Panthers flew home to bring to an end what has been a truly remarkable season for the Cardiff club.