Irish Banshee joins female stars at the AFL/AIS Academy
Saturday, October 29 2011 @ 10:53 pm ACDT
Contributed by: Tobietta Rhyman
Views: 3,022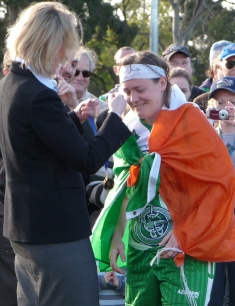 Irish Banshees World Team representative and Sydney Women's AFL All-Australian representative Marie Keating was one of the female football stars selected to attend this year's AFL/AIS Academy.
Though usually reserved for the country's upcoming male talent, many of whom go on to be drafted, for the first time this year's intake included women selected from this year's Women's National Championships and Youth Girls National Championships. Keating was joined by other talented women and girls from across the country.

Marie Keating (SWAFL and Ireland)
Katie Brennan (QWAFL)
Elise O'Dea (ACT WAFL)
Maddison Smith (TASWAFL)
Courtney Cramey (SAWFL)
Chelsea Randall (WAWFL)
Kristy Irvine (NTWAFL)
Aasta O'Connor (VWFL)
Ellie Blackburn (VIC Youth Girls)
Jess Dal Pos (VIC Youth Girls)
Zoe Hart (VIC Development)

Queensland representative Katie Brennan dreamt of being an AIS scholarship holder since she was a child. Though an unusual dream, considering the AIS Academy had never previously accepted female players, it shows the passion of these young women to reach the very top, even if it means breaking the boundaries of women's football.

Western Australia representative Chelsea Randall thought the AIS Academy was an inspirational and informative experience. South Australia representative Courtney Cramey also gave her thumbs up for the coaches, and talked about how much she had learnt on the camp. As well as skills coaching, the young players were also taught important sports skills including strength and conditioning, improving their running technique, decision making, and recovery techniques such as self massage.

The AIS-Academy camp also gives out great advice on injuries, which was a great help to Tasmania representative and youngest female participant Maddison Smith, who unfortunately picked up a knee injury. Coupled with her enthusiasm, AIS Academy Head Coach and former Brisbane Lions premiership player Chris Johnson, worked out a modified schedule for Smith so she could still participate without straining her knee. Smith hopes she can be a role model for other young female footballers in Tasmania, and that soon they can develop their own Youth Girls competition, similar to other successful leagues across the country.

There was also some lighter advice from ACT representative Elise O'Dea, who suggested the next intake of players should remember their camera! And with the likes of former AFL greats Brent Harvey and Glen Jakovich, as well as Sydney Swans' awe inspiring Adam Goodes and GWS youngster Israel Falou, sharing their knowledge and passion for the game, that's probably the best advice you could get!

The admission of women to the AFL/AIS Academy for the first time is part of a number of measures the AFL and many AFL clubs are undergoing to improve the talent pathways in female football in preparation for the hoped for 2020 AFL Women's league, and ultimately, the sport's first ever female draft which would preceed that. Whilst accepting that this step is only part of that build up, O'Dea and Keating both acknowledged the importance of the training camp and that it marked the beginning of a new era for women's football.

Keating went on to compare women's football to professional netball and soccer's W-League to demonstrate her belief that a professional AFL Women's league is definitely achievable in the future.

Like the other women who attended, Keating is looking forward to sharing her new skills with her own coach back at her local club. As well as education and recovery, the female players were also tested in a range of areas, including football skills, athleticism and attitude, all alongside the potential draftees. The handing down of this knowledge skills at club level will likely result in the further growth and development of female football, on top of an already bumper 2011 season.

Unfortunately, Keating will have to return to Ireland whilst she applies for a new visa, and does not know if she will be accepted. However, she is sure to make another appearance in Australia, if not next year, then in 2014 when she rejoins the Irish Banshees to defend their International Cup title.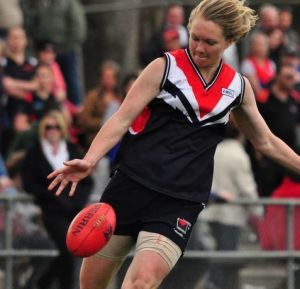 Darebin Falcons' Aasta O'Connor (Victorian WFL)