Setanta looks to draft as Irish players cut
Wednesday, October 19 2011 @ 09:51 pm ACDT
Contributed by: Brett Northey
Views: 2,541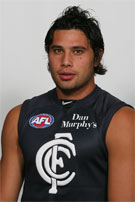 All through AFL trade week it was reported that Carlton's big Irishman Setanta O'hAilpin had asked to be traded. When no deal was done the Blues de-listed him, ending his 7 years at the club, despite some good form in 2011. His manager Michael Quinlan has said, "Despite what was reported, we never sought for him to be traded."
"This was a very tough decision for us, Setanta has been a an important part of our club for seven years since he arrived in Australia from Ireland," said Carlton CEO Greg Swann.
Setanta will now enter the draft hoping to be picked up by another club. It's also possible for Carlton to re-draft him. Throughout his career he never quite established himself, with runs of good matches followed by injuries, poor form or bad luck. Wasteful disposal sometimes turned good matches into average ones. A particular match that comes to mind saw him very good form only to be flattened by team-mate Brendan Fevola when going for a mark that the Australian-Fijian-Irishman was clearly in the best position for; such events seem to have plagued his career. Aged 28 he could be an option at GWS Giants as they look to acquire mature players while they develop their gun youngsters about to be drafted. It would be interesting to see if Setanta could find more consistency at another club.
O'hAilpin joined Carlton in 2005 and played 80 games for the club, kicking 67 goals.
Another two Irish recruits were also de-listed. They are Sydney Swans rookie Chris McKaigue who has returned to Ireland and Jamie O'Reilly, a rookie at Richmond.

Update 20/11/2011: Essendon has delisted Irishman Michael Quinn, who played 8 senior games (debuting in 2009) and won a VFL best and fairest, which just goes to show the big step now between the top state leagues and the AFL.
In case this is the last we see of Setanta O'hAilpin, the full Carlton Football Club statement appears below.

The Carlton Football Club today confirmed that former international recruit, Setanta O'HAilpin is no longer a required player.
"This was a very tough decision for us, Setanta has been a an important part of our club for seven years since he arrived in Australia from Ireland," said Carlton CEO Greg Swann.
"The AFL rules required us to make one more change to our playing list prior to the List Lodgement on October 31st to ensure we have the minimum selections in the 2011 National Draft. Setanta and Paul Bower were the two players out of contract and after a lengthy meeting this morning we made this tough decision. We certainly wish Setanta the very best and I know his enthusiasm will be missed around the Carlton Football Club," Swann added.
At 28 years of age, Setanta is five years older than Bower, and there is no doubt age played an important role in this decision.
Since making his debut for the Blues in Round 7 2005, Setanta has played a career total of 80 games, booting 67 goals.
He managed 8 games this season, after injuring his hand in Round 11, however returned to the team in Round 24 and played in Carlton's two finals matches.
The Sydney born, Irish raised big man was taken by Carlton in the 5th round of the 2004 Rookie Draft, selection 62 overall as an International Rookie, after impressing recruiters in his native sport of Hurling.
Setanta was elevated to the Carlton senior list in 2005, making his debut in round 7, 2005 against Richmond at the MCG after being involved in the game for less than six months.
In 2004, Setanta represented Ireland in the International Rules Series and was a member of the Club's 2007 Pre-season Premiership.
The Carlton Football Club would like to officially thank Setanta for his service over the past seven seasons, he has played an integral role in the club's steady climb up the ladder.
Off the field, Setanta has been an active participant in the Club's multicultural program, acting as an ambassador for a number of years.
Everyone at the Carlton Football Club wishes Setanta the very best for the future.