Clean sweep by Irish women
Thursday, October 13 2011 @ 11:04 pm ACDT
Contributed by: Brett Northey
Views: 2,384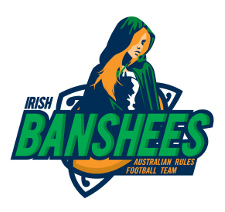 Ireland's women completed the clean sweep of international women's Australia football when they knocked off the newly formed Swiss women's side in Belfast as part of the 2011 European Cup. The Banshees, barely a year in existence themselves, have now collected back to back Euro Cup wins to go with the inaugural Women's International Cup.

The following report thanks to Leiha Shrubsall, also a member of the victorious team.
Saturday 08th October, Belfast Queen's University Sports grounds - 2011 Euro Cup.
It was a cool day and the rain on and off, sometimes teaming down making the footy slither out of players hands more easily than they would have liked. Walking around the grounds there was a buzz in the air, the same type felt at the recent International Cup, different languages bouncing around the foyer and the smell of Aussie Rules football. Making our way from all directions to Belfast for the weekend, we were all there ready to play for the second women's European title.
With just the two women's teams there was no round robin, just straight into the battle for the Cup.
The women's match was not played until 5pm, just before the men's final at 6pm. The rain and cool conditions suiting the home team, the Banshees ran out comfortable winners over Switzerland. Emma Kelly captained the Banshees to victory, the team made up of a mix of International Cup players and new players, for some of them it was their first game of Aussie Rules.
The first quarter set the tone for the match, the Swiss fought hard, getting tackles in and a couple of frees, but not capitalizing on their good mid field work. The Banshees tore off with their usual speed which tested the Swiss for most of the match, as well as winning the ball in the centre, Miriam Long and Caitlin Keenan (both debut appearances) made it easy for the forwards to get their hands on the ball. Nuala Hagan kicking forward and player of the tournament - Kate Fitzsimons bagging a record number of goals, the final score Ireland 126 - Switzerland 6.
There have now been 3 European women's teams representing their country, Ireland, Italy and Switzerland. And we can expect more too with the way things are heading. The women's Irish team had only come into existence this time last year, now they have 2 European championship titles and the International Cup title up on the shelf. It would be great to see more women's teams at the Euro Cup next year...