Sunday, October 09 2011 @ 09:29 pm ACDT
Contributed by: Troy Thompson
Views: 2,765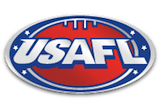 Calgary are the standout Division 1 team in the USAFL after Day 1 in Pool A. They seem likely to defeat Orange County on form tomorrow morning and would then play the top team from Pool B, Orange County of course will be looking to try to put paid to those plans. Pool B is a battle between Seattle and Denver who were both undefeated on Day 1 and will play each other tomorrow morning with the winner to go to the final. Denver will go in favourites but Seattle will always be a chance if they can defend well in the short format.
Division 2 is dominated by the Texan teams in Austin and Dallas undefeated in their pools and in Division 3 Atlanta leads it's pool undefeated while Arizona and Florida are undefeated in the other pool. You can follow tomorrow's matches as USFootyNews
All mens division results follow:
Division 1
POOL A
Saturday


Golden Gate 4.0

v Orange County 7.5


New York 2.5 v Calgary 4.4


New York 5.7 v Orange County 2.2


Golden Gate 2.2 v Calgary 5.4

POOL B
Saturday
Denver 5.4 v San Diego 3.1
Seattle 4.2 v Baltimore DC 0.5
Denver 9.3 v Baltimore DC 0.1
Seattle 3.9 v San Diego 2.1

Sunday Matches
Orange County v Calgary, New York v Golden Gate, Baltimore DC v San Diego, Denver v Seattle.
Grand Final
Winner Pool A v Winner Pool B
Division 2
POOL A
Saturday
Minnesota 0.1 v Dallas 9.4
Los Angeles 7.5 v Philadelphia 2.2
Minnesota 5.9 v Philadelphia 2.1
Los Angeles 1.3 v Dallas 7.3
POOL B
Saturday
Boston 8.5 v Portland 2.1
Austin 5.6 v Chicago 2.0
Boston 4.1 v Austin 8.7
Chicago 4.2 v Portland 4.2

Sunday Austin v Portland, Boston v Chicago, Minnesota v Los Angeles, Philadelphia v Dallas,
Grand Final Pool A Winner v Pool B Winner
Division 3
POOL A
Saturday
Nth Carolina 3.8 v Florida 5.3
Nashville 1.4 v Arizona 9.7
Nth Carolina 1.1 v Arizona 11.4
Nashville 2.3 v Florida 5.9

POOL B
Saturday
Atlanta 10.6 v New York B 3.0
Kansas City 5.7 v Columbus 3.6
Atlanta 10.5 v Columbus 2.1
New York B 6.2 v Kansas City 5.5

Sunday Nashville v Nth Carolina, Florida v Arizona, Atlanta v Kansas City, Columbus v New York B
Division 4
POOL GAMES
Saturday
DesM/Chic/Tul 2.6 v Denver 7.7
FtL/BWE/Mt/Van 7.8 v Dal/Aus/Port 1.0
Golden Gate/LA 2.11 v Las Vegas 3.4
BTR/Houston 3.2 v Denver 5.3
OHV/Milwaukee 13.13 v Las Vegas 1.0
DesM/Chic/Tul 0.2 v BTR/Houston 8.8
Golden Gate/LA 1.2 v OHV/Milwauk 2.8
Bos/Seat/SanD 4.8 v Dal/Aus/Port 1.2
FTL/BWE/Mt/Van 0.0 v Bos/Seat/SanD 0.0

Pool Tables after Day1
DIVISION I
Pool A:
Team
W
D
L
PF
PA
Percentage
Points
Calgary Kangaroos
4
2
0
0
62
31
200.00%
8
New York Magpies
2
1
0
1
54
42
128.57%
4
Orange County Bombers
3
1
0
1
60
63
95.24%
4
Golden Gate Roos
1
0
0
2
40
80
50.00%
0
Pool B:
Team
W
D
L
PF
PA
Percentage
Points
Denver Bulldogs
5
2
0
0
91
20
455.00%
8
Seattle Grizzlies
6
2
0
0
53
18
294.44%
8
San Diego Lions
8
0
0
2
32
61
52.46%
0
Balt Washington Eagles
7
0
0
2
6
83
7.23%
0
DIVISION II
Pool A:
Team
W
D
L
PF
PA
Percentage
Points
Dallas Magpies
12
2
0
0
103
10
1030.00%
8
Los Angeles Dragons
10
1
0
1
56
59
94.92%
4
Minnnesota Freeze
9
1
0
1
40
71
56.34%
4
Philidelphia Hawks
11
0
0
2
27
86
31.40%
0
Pool B:
Team
W
D
L
PF
PA
Percentage
Points
Austin Crows
15
2
0
0
91
37
245.95%
8
Boston Demons
13
1
0
1
78
68
114.71%
4
Chicago United
14
0
1
1
38
38
100.00%
2
Portland Steelheads
16
0
1
1
39
79
49.37%
2
Div III:
Pool A:
Team
W
D
L
PF
PA
Percentage
Points
Arizona Hawks
20
2
0
0
131
17
770.59%
8
Florida Redbacks
19
2
0
0
72
41
175.61%
8
North Carolina Tigers
18
0
0
2
33
103
32.04%
0
Nashville Kangaroos
17
0
0
2
25
100
25.00%
0
Pool B:
Team
W
D
L
PF
PA
Percentage
Points
Atlanta Kookaburras
21
2
0
0
131
31
422.58%
8
Kansas City Power
22
1
0
1
72
62
116.13%
4
New york Magpies (B)
24
1
0
1
56
101
55.45%
4
Columbus

Jackaroos

23
0
0
2
37
102
36.27%
0
Div IV:
Team
W
D
L
PF
PA
Percentage
Points
FtL/Mont/BWE/Van
28
2
0
0
83
7
1185.71%
8
OHV/Milwaukee
32
2
0
0
111
14
792.86%
8
Denver
27
2
0
0
82
38
215.79%
8
BRouge/Houst
26
1
0
1
76
35
217.14%
4
Bos/SDiego/Seatl
29
1
0
1
33
41
80.49%
4
Golden Gate/LA
31
1
0
1
31
42
73.81%
4
Las Vegas
33
0
0
2
28
114
24.56%
0
DesM/Chic/Tul
25
0
0
2
20
105
19.05%
0
Dal/Aus/Port
30
0
0
2
14
82
17.07%
0