Victoria win the 2011 Youth Girls National Championships
Tuesday, September 27 2011 @ 06:55 pm ACST
Contributed by: Tobietta Rhyman
Views: 2,463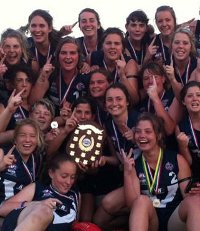 Adding to the success of the Seniors at the Women's Nationals in June, on Saturday 24th September in the Gold Coast, the Victorian defeated Western Australia by 7.4(46) to 5.6(36) to win their second Youth Girls National Championships title. Victoria also won the inaugural Youth Girls Nationals in 2010.
The Grand Final was held at Southport Sharks AFC on the Gold Coast. Victorian player Ellie Blackburn (Berwick Hawks) was named Best on Ground and was awarded the Game ball. This future female star was also named Player of the Carnival, was joint winner of the Golden Boot with Western Australia's Sabrina Traub, and was awarded a well deserved place on the All-Stars team.
This year's competition coincides with the initiation of an under 17s Youth Girls competition on the Gold Coast, part of AFL Queensland's plans to expand the Youth Girls competition, including new competitions due to start in 2012 in Sunshine Coast, Mackay and Cairns. Also in 2012, AFL Queensland will welcome new team Cape York and the returning PNG Kurakums to the State Youth Girls Championships.
Youth Girls competitions are now run nationwide for girls under 18. Continuing from 2010, the Youth Girls National Championships are to be held every year, with the best girls from each state competing against each other. However, unlike the senior Women's Nationals, the Youth Girls Nationals features a joint New South Wales/ACT team, Tasmania are yet to enter a team, and Victoria also has a "Development" team featuring younger girls from mainly non-metropolitan locations.