Game Day 8 - Lions stop Chiefs with last gasp goal
Friday, August 26 2011 @ 10:54 pm ACST
Contributed by: Brett Northey
Views: 2,222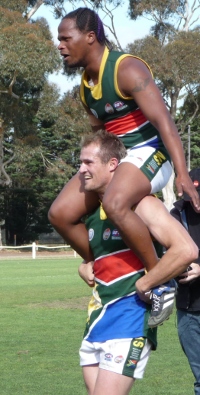 The 12:30pm slot today at McAlister Oval in Royal Park, Melbourne, saw the South African Lions, disappointed not to make the top 4, take on Nauru, who also had an eye on the semi-finals but fell short. Both sides had clearly re-grouped and were desperate to claim 5th spot.
The opening goal went to the Lions after Steven Malinga (#9) was taken high when he had his head over the ball in the goalsquare – an easy conversion from straight in front.
Nauru goaled next but it was answered by a clever snap from former GWS Giants player and captain Bayanda Sobetwa, always amongst South Africa's best. This was followed by a clever fake around an opponent by Thiboeng ( #19) who ran on to kick another goal for the Lions.
A lot of the crowd had an eye on Johnny Dagiaro (#11) for Nauru, after his breath taking performance to almost knock off Nic Naitanui's jump score at the AFL Combine held the day before. He showed why, with a spectacular attempt over a South African opponent.
A chain of possessions lead to South Africa's Thiboeng (#19) shooting for goal just as the siren sounded – those close to the time keeper suspected the hooter blew first, but of course the umpire in control calls it when he hears it, further down the field. The six-pointer put the Lions up 4.1 (25) to 1.1 (7), perhaps a greater lead than general play suggested.
Nauru goaled early in the second quarter, followed by a beautiful lead, mark and long from Sobetwa.
Grundler for the Chiefs marked and then received a 25m penalty to make the reply easy, and the Nauruans were suddenly on a roll, with Yoshi Harris snapping truly and letting his opponent know about it.
Satto was using his body well to take marks in defence and the scoring dried up for the Africans and at half time it was a tight South Africa 5.2 (32) to Nauru 4.2 (26).
There was plenty of niggle starting to creep in as both sides threw themselves at the ball and the player, especially with the scores so close. Goals to Nauru's Yoshi Harris and Dagiaro, again starring, were countered by Malinga dribbling one through along the ground.
A great team goal for Nauru game through the bullocking work of Dannang who refused to be pulled down in the tackle, and at ¾ time the Chiefs lead by 6 points, with the action not done as a South African ran through Nauru's huddle, almost causing a brawl.
A spectacular kick over his head out of mid air by Gamakhulu for South Africa just missed, and it was the first of many points as South Africa's running and handballing game suddenly switched into gear. They had too much run for Nauru who seemed to slow in the final quarter of this long tournament, and finally scores were level.
Thrilling play saw the Lions surge forward over and over, only to be denied by great marking by Nauru on the last line.
With former Sydney Swan star Brett Kirk shouting from the sidelines "Just kick it long, get it in there!" the Africans messed around wide. Finally a scramble in the goalsquare saw Benji Motuba, now a Lions veteran, soccer the ball off the ground for a goal to huge celebrations and the siren sounded. The Lions had secured 5th spot by 6 points over a desperately unlucky Nauru who have to settle with 6th. As is traditional riotous joy broke out with the Africans dancing and singing to put the final stamp on their victory, with hero Motuba, likely to retire from national duty, showing signs of a tear in the eye.
South Africa 7.10 (52) def Nauru 7.4 (46)
Goals:
South Africa – S. Matshane 3, B. Sobetwa 2, B. Thiboeng , B. Motuba
Nauru – J. Yoshi Harris 3, K. Kamtaura , R. Grundler , R. Deirerega , J. Dagiaro
Best:
South Africa – S. Malinga, B. Motuba, S. Gamakulu, B. Sobetwa, T. Mogapi, A. Magqwaka
Nauru – J. Uepa, R. Satto, M. Batsiua, T. Depaune, J. Dagiaro, T. Waidabu
This article sponsored by Lazy Traveller South Australia