Game Day 8 - Freedom torch Flame
Friday, August 26 2011 @ 10:17 pm ACST
Contributed by: Tobietta Rhyman
Views: 2,157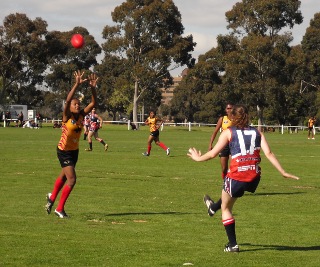 The USA Freedom today re-grouped after the disappointment of just missing the play off for top spot to claim third spot against an improved Papua New Guinea Flame.

The US women were relatively quick to get the opening goal, but determined not to lose their last chance to get on the Australian Football map, the PNG Flame came back hard, but only managed a behind. The Freedom drove it straight back down the Flames throats, Lindsay Kastanek racing into the goal square, but she was tackled at the last second by the PNG full back. Undeterred, Kastanek stretched out her foot and tipped the ball over the line for the Freedom's second goal.


Again the Freedom were straight out the blocks for the 2nd quarter, the ball flying through the goal posts, but it was deemed touched for a behind. PNG Flame were determined to get back into the game and there was a great battle in midfield before the Americans turned the momentum their way again, kicking the ball long for a great mark in front of the posts and goal number three. After that, the Flame locked the ball inside the USA defensive 50, desperate for a goal to get back into the game but to no avail. Freedom finally got a free kick and clawed the ball back up the other end of the field for another great mark in front of goals, but this shot went behind.

In the third quarter the US scored first but only a behind. Following this, the Flames came fighting back, the momentum on their side as they forced the ball to stay in the USA defensive 50. The kick came in and the tall Freedom full back thought she had it, but it was stolen by PNG forward Michelle Wandaki. Before the full back could react, she slipped through and finished the move with the first goal for the Flames.

In the last stanza the Flames came out strong after the break and locked the ball up forward. Finally the Freedom got a free kick on the boundary line and cleared the ball, but it was fiercely contested in midfield. PNG got a break and took a shot, but it went straight to the American full back. The Flames were looking strong after that but having trailed comfortably most of the game they would need a goal flurry to have a chance. It only took one loose ball to seal the game for the Freedom, bouncing through the PNG defence and taking a turn, straight through the centre posts.
After an honest contest from PNG the stronger side had won the day and claimed third spot, a finish to be proud of in the first ever Women's International Cup.

Full time score: USA Freedom 4.3 (27) defeated PNG Flame 1.2 (8)

Goal Kickers: USA- Estrada, Cravens, Kastanek 2
PNG- Wandaki

Best Players: USA- Kraft, Spink, Geoghegan, Porter, Stablein, Cravens
PNG- Puan, Lavai, Avel, Barnabas, Isaac, Harold