Ted was there… and so were the TV Stations
Thursday, August 25 2011 @ 12:07 pm ACST
Contributed by: Stephen Alomes
The television media took to the International Cup 2011 at the Royal Park ovals on Wednesday, after a slow build-up in media coverage over the past two weeks.

IC11 was covered by several TV and radio news services, including Channels 9, 10 and 7, and by radio stations including 3AW and SBS Radio, which recorded a segment for its French program.

The Victorian Premier, Ted Baillieu, with his ruckman build, tossed the coin for the match between the American Revolution and Papua New Guinea. Drawn by the political luminary, a battery of TV news cameras invaded the ground backed up by clusters of 'suits'. AFL CEO Andrew Demetriou was also there for the big moment, a prelude to the unstoppable march of Papua New Guinea, as the footy team of one of the world's poorest nations defeated the Revolution, the team of the world's richest nation, the USA, by 9.14 (68) to 3.3 (21).

Ted Baillieu also went to visit the Israeli-Palestinian Peace Team, coached by the indefatigable Dipper (Robert Dipierdomenico), and said his 'Bonjours' to the coaching party of their opponents, the French Coqs as he made his way around the boundary. (The newcomer to the tournament France went on to defeat the Peace Team in a tight, if low-scoring match, 5.5 (34) to 4.1 (25), its third win in three of its Division Two matches, having previously defeated India and Timor-Leste.)

The International Cup had a tournament feel with a colourful diversity of teams and supporters, including the British Bulldogs 'no 1' guernsey-wearing canine mascot, the forest of TV cameras, ground announcer, the 'Urban Cowboy' Rod Grljusich, broadcasting on the powerful sound system, and World Footy News' Troy Thompson ustreaming audio commentary of the USA-PNG match.

The US-PNG match also had a multicultural and cross-generational feel in orange, the central umpires, whom the Premier also met, were the experienced Sig Sokolowski from the Victorian Amateurs and Nathan Quattrucci, although Nathan remarked that his ethnic origins go back a way.

Some might have questioned aspects of the ceremonial. Hand on the heart gestures as the national anthems were played is not an Australian tradition, and some observers remarked that it was a little unbalanced for the Premier and the CEO to stand on the American side of the umpires when the teams lined up with only the AFL Ambassador Brett Kirk enlisted with the same task on the Papua New Guinea side.
Beyond the symbolic moments most players and spectators enjoyed the footy, the carnival atmosphere and the 21 degree day, Melbourne's 14th hottest ever August 24th, at Royal Park.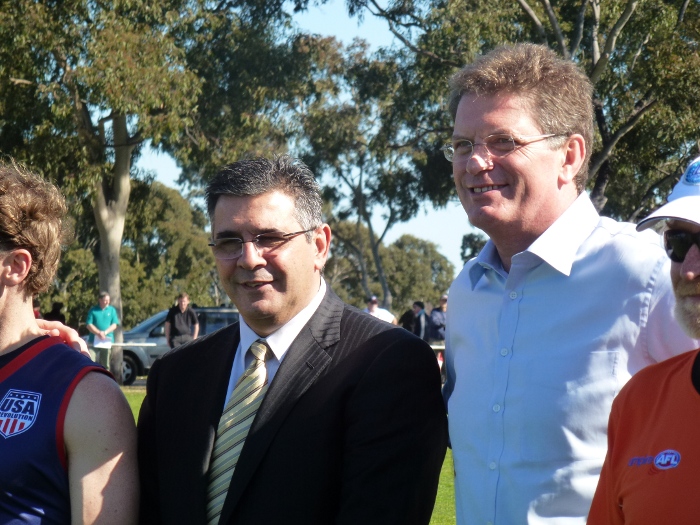 Centre Stage - AFL CEO Andrew Demetriou and Victorian Premier Ted Baillieu
Comments (0)
---
World Footy News
http://www.worldfootynews.com/article.php/20110825001017910