Parade of Nations and "Kick to Kick" at Sydney's ANZ Stadium
Monday, August 22 2011 @ 02:00 pm ACST
Contributed by: Tobietta Rhyman
Views: 3,302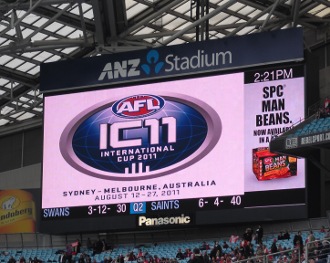 After the curtain raiser game between the USA Freedom and South Africa Lions, won easily in the end by the Americans, despite hurting themselves with some poor goalkicking, representatives from each team went down to the field to form a guard of honour for the day's main event: AFL Sydney Swans vs St Kilda.

After that, apart from the Sydney Swans' forwards' kicking resembling that of the Americans, the Swans' behinds tally also looking similar, the next time the crowds got some International action was at half time for the Parade of Nations. It started with the International Cup logo, looking enormous on the ANZ Stadium's big screens, then out the teams came, one by one, from opposite ends of the ground, walking in line in front of the cheering crowds. As they came out, the commentators announced where each team was from to roaring applause. The teams proudly carried their flags (and their kids) and waved back up at the crowds. Some even came over to meet the local kids who were leaning enthusiastically over the barriers.
It was unfortunately a quick affair, but the fans seemed to enjoy it, as did the International Cup players. Little did the International Cup players know the best was yet to come! After full time, the ANZ Stadium allows fans to go on the ground for "Kick to kick" and the International Cup players couldn't resist the opportunity to show off their own skills to the locals, many of whom got involved. From photo shots with the French Coqs and Japanese Samurai teams, to full on romping around with the rowdy British Bulldogs squad, the local footy fans got a chance to get up close and personal with the International players who share their love of the game, and a few IC11 players also went home with a new trick shot or two.
We'll add some more photos to our photo gallery later in the day.