Game Day 5 - French demolish India to take top spot in Div 2
Saturday, August 20 2011 @ 08:53 pm ACST
Contributed by: Troy Thompson
Views: 2,372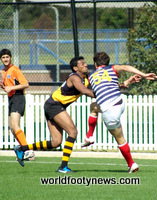 The French Coqs have continued on their winning way, destroying India by 91 points to take top spot in Division 2 today.
After an initial 10 minute filling-out period, the match got seriously underway, with the Coqs scoring the first two goals through Ludovic Galiana and Grégoire Patacq. Despite kicking with slight breeze, the French couldn't kick any further majors in the term, whilst the Tigers got one through Kaliasanthan to quarter time. Rakesh Ghosh was keeping the Indians in the match, working hard around the packs, and Jay Himat marking well in defence.
Once the second quarter got underway, the Indians were kicking with the breeze, which had picked up significantly, but the game did not look that way. France quickly added another 4 goals for the quarter. India got the ball forward a couple of times but never really seriously threatened to kick goals. Himat again stood tall for India, taking strong marks running off the backline and kicking the ball long. Alban Schieber dominated for France, driving the ball forward on a number of occasions.
In the third quarter, India could not mount any solid defence against the French, who were kicking with a strong breeze. India were reduced to 17 men, after Mayank Shah was taken to hospital with what was later confirmed to be a broken collarbone. By the time both sides were heading into the 3/4 time huddles, France had an insurmountable 70 point lead.
The highlight of the final quarter was Wilfried Houvion taking 9 or 10 bounces on the way into an open goal square for another French goal, the final score a 91 point thumping.
| | | | | |
| --- | --- | --- | --- | --- |
| France | 2.3 (15) | 6.5 (41) | 11.12 (78) | 14.15 (99) |
| India | 1.1 (7) | 1.2 (8) | 1.2 (8) | 1.2 (8) |
Goals
France: Patacq 3, Houvion 2, Galiana 2, Foirien 2, Tessier 2, Bonnay, Jan-Mahamad, Giner
India: Kaliasanthan
Best Players
France: W. Houvion, W. Tessier, G. Patacq, C. Jan-Mahamad, J. Theis, A. Schieber
India: Himat, Rishi, Kaushik, D'Mooore, Akhtar, Ross