Game Day 5 - Irish defeat the Danes in heated clash
Saturday, August 20 2011 @ 08:00 pm ACST
Contributed by: Troy Thompson
Ireland's Green Machine saw off Denmark by 63 points today, in a sometimes heated encounter that saw a number of players either get sent off or leave the ground injured. Denmark have impressed at the IC11 so far, looking well-drilled and exciting up forward, but today Ireland's ball use around the ground and smart forward setup set them apart.
Ireland went into today's game without squad listed o'hAilpin, Stynes and Meredith who are all likely playing club football in Melbourne. The game got off to a tough start and within minutes Joachim Secher went down with a dislocated shoulder. Ireland weren't winning in the middle but McManus put the first goal on the board for Ireland.
Anders Neugebauer and Stetter worked hard in the middle and Biron was winning ball across the centre for Denmark but struggled his team to get any traction. Michael Carey kicked Ireland's second from 35 metres out to take Ireland to 2.2. Just before the quarter time siren John Heslin was sent off for a minor indiscretion.
When Heslin returned he kicked a nice goal almost immediately and Holland and Purcell soon added more. Denmark continued to work hard in the middle and to rebound but the Irish used the ball well and McDonagh kicked Ireland's fourth for the quarter. Denmark won clearances 6 to 1 in the first half, a testament to the Irish backline for keeping them scoreless up until the halftime break.
At half time the Irish coach called for more switching, less giving away free kicks in the middle and for his team to reward the lead of their key forward. The lights came on early in last third quarter. Denmark worked the ball forward early in the quarter but the Irish dropping numbers back were able to run it out continually. Denmark were eventually rewarded with a minor score. That just fired up Ireland again and they added three more goals despite the best efforts of Rose, Djernes and Ringdum for Denmark.
Ireland were 56 points up going into the last quarter and were never in Danger in the last quarter. Biron was again good for Denmark by hand and foot. Heslin kicked another for Ireland before Malone kicked Denmark's only game for the match. In what was a heated last term Kavanagh was sent off with a red card for what appeared to be knees into the back of a Denmark player and he will have to face the tribunal. Ireland produced a great running goal in the last minutes involving McManus, Sharry and finished off by Sheils.
Ireland running out very convincing winners by 63 points and setting themselves up for a semi-final in Melbourne on Wednesday.
| | | | | |
| --- | --- | --- | --- | --- |
| Ireland | 2.2 (14) | 6.4 (40) | 9.4 (58) | 11.6 (72) |
| Denmark | 0.0 (0) | 0.0 (0) | 0.2 (2) | 1.3 (9) |
Goals
Ireland: Sheils 2, McManus, Coomey, Sharry, Holland, Purcell, McDonagh, O'Suileabhain, Heslin, Carey
Denmark: Merhøj
Best Players
Ireland: Purcell, Sharry, Carey, Finn, Coomey, Holland
Denmark: Lauritzen, Djernes, Rose, C. Campion, Biron, R. Damborg Jensen.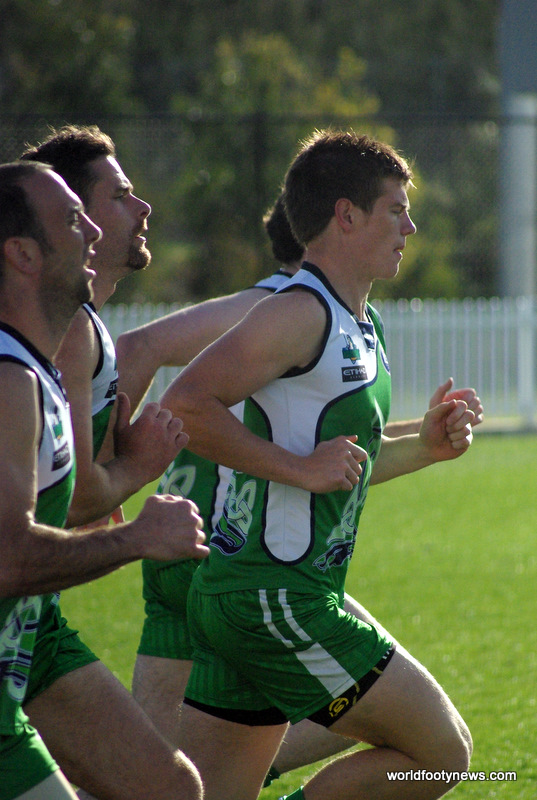 Comments (0)
---
World Footy News
http://www.worldfootynews.com/article.php/20110820203055218