Young Mozzie Beno to play for Brisbane Lions
Friday, August 19 2011 @ 12:07 am ACST
Contributed by: Brett Northey
Views: 2,423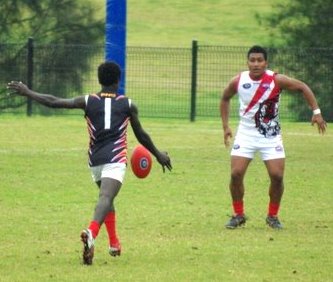 Brendan Beno is a star young player for Papua New Guinea at the 2011 AFL International Cup. Having just turned 17 he has already kicked 7 goals in 3 games and remember these are shortened length, especially on the opening day. From Bougainville, at 173 cm and 62 kg he's lightly built but boldly wears the number 1 jumper. Now he's about to swap that for a Brisbane Lions Guernsey.
When we started to research Beno's involvement with Brisbane this evening we contacted AFL Asia Pacific Manager Andrew Cadzow for comment, only to have him point out that the Lions had just made the call on his services and even run an article on him, a remarkable coincidence in timing.

Beno (pictured at left shooting for goal) also starred for the South Pacific in the NAB AFL Under 16 Championships earlier this year, showing then that he knows where the goals are. Happily for the Brisbane Lions they had already snapped him up on an international scholarship and with their Reserves playing at Blacktown International Sportspark Sydney (BISS) this Saturday it occurred to all involved that it would be the perfect chance for the young Mozzie to play his first game for the Lions.
Ironically at the same time PNG will be playing next door at BISS oval two. And furthermore, possibly the best player to come out of PNG so far (if you exclude Mal Michael) is Don Barry, already playing for Brisbane's Reserves. It's unfortunate that the two games mostly overlap - it would've been great for both PNG and Brisbane to go watch either other.
You can read Brisbane's article in which Cadzow pulls no punches, saying "He's a very good small forward, very smart on the field, a bit of a Stephen Milne-type player but with better hands. He's very elusive and always kicks goals off both left and right feet," Cadzow said.

See Beno's chance to sign.