Game Day 3 - Canadian women snuff out the Flames
Thursday, August 18 2011 @ 04:01 pm ACST
Contributed by: Brett Northey
Views: 1,918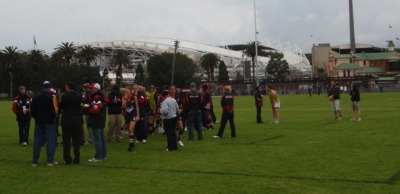 The 2011 International Cup is not only the first time the women have competed but for many of these teams it's the first or second time they've played international matches. That making picking a winner difficult, and after Papua New Guinea thrashed the Australian Indigenous / Multicultural side we thought we'd found our tournament favourite. Not so! What a shock to have Canada's Northern Lights not only shine brighter than PNG's Flames but to completely eclipse them.
The match was in the 12pm timeslot as SCG Bus Loop - that's the oval by the bus loop outside the Sydney Cricket Ground, home to the AFL's Sydney Swans.
Canada burst out the blocks, kicking 2.3 to 0.0 in the first quarter, and we waited for PNG to respond. They did and held Canada to 2 points in the second quarter, but still couldn't trouble the scoreboard.
A solitary goal to Canada in the third had to counterpart from PNG and the game looked done. The Flames flickered in the last, against holding Canada goal less, this time to just 1 point, but once again the PNG girls couldn't score.
The final score was Canada 3.7 (25) to PNG 0.0 (0), quite a stunning winning and the first by Canada's women in the International Cup.
Many thanks to Fiona Austen for the photos.
PNG Flames
Best Players: K. Margret Jesse, J. Tatsie, T. Lavai, J. Mettakaisava, C. Puan, A. Vinnie Isaac
Canada Northern Lights
Goal Kickers: S. Ennor 3, L. Zmurchuk 2, M. Ginocchio
Best Players: E. Loughlane, M. Ginocchio, S. Ennor, M. Legault, E. Leblanc, A. Perry